Clifton Terrace, Finsbury Park, London, N4 3JP GB
Faits rapides
Meilleur choix de places du West End
Disponibilité des places en temps réel
Choisissez vos propres places
Votre réservation est enregistrée instantanément dans le système du théâtre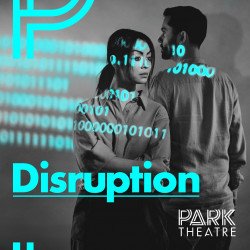 Disruption
Séances à partir de : vendredi 7 juillet 2023
Séances jusqu'à : samedi 5 août 2023
Durée : 90 minutes (interval TBC)
Places

à partir de 20,99€
Réserver
Information
Tarifs Réduits
A propos de Disruption
Horaires
Séances à partir de : vendredi 7 juillet 2023
Séances jusqu'à : samedi 5 août 2023
Durée : 90 minutes (interval TBC)
Description de Disruption
Tech entrepreneur Nick thinks he has the answer. 
After tremendous Silicon Valley success and a big exit, Nick presents his three best friends with his next big idea: an algorithm that is more complex than the human brain and promises to guide them through big life decisions better and more effectively than they can guide themselves. 
In an era where every aspect of human life has been documented with data and disrupted by technology, do computers know us better than we know ourselves? And even if they do, should we listen? 
Andrew Stein's sharp, unnerving thriller is a timely and insightful exploration of our tech obsessed world.
Informations Importantes
14+
Latecomers may not be admitted.
Audio Described Performance:
Wed 26 July 19:30
Billets réduits pour Disruption
Nous avons une grande sélection de billets pas cher pour Disruption à Londres. Vous pouvez économiser jusqu'à 70% du prix du billet! Si vous recherchez des billets réduits pour Disruption au Park Theatre, toutes nos offres sont ci-dessous.
Il n'y a pas d'offres spéciales disponibles pour le moment, mais nous avons toujours des places pas chères pour Disruption au Park Theatre.