Marble Arch Theatre
Marble Arch Theatre, Marble Arch, London, W1C 1CX GB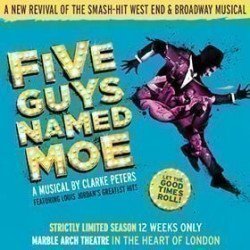 Five Guys Named Moe
Marble Arch Theatre
Séances à partir de: mardi, 29 août 2017
Séances jusqu'à: samedi, 25 novembre 2017
Places
à partir de 14,99€
Réserver
Horaires
Mon
Tue
Wed
Thu
Fri
Sat
Sun
14:30
14:30
19:45
19:45
19:45
19:45
19:45
19:45
Informations Importantes
Please note: All tickets for Five Guys Named Moe will include a souvenir programme (worth £10) that will be handed out on arrival. All premium tickets will receive a glass of bubbly and table service before the show and during the interval.
Séances à partir de:
mardi, 29 août 2017
Séances jusqu'à:
samedi, 25 novembre 2017
A musical by Clarke Peters, featuring Louis Jordan's greatest hits presented by Underbelly in association with Cameron Mackintosh. A major new production of the hit West End and Broadway musical, Five Guys Named Moe features the toe-tapping and irresistible hits of jazz legend Louis Jordan, including; Early In The Morning, Choo Choo Ch'Boogie and Saturday Night Fish Fry, plus many more performed on stage by a live band. First seen at the Theatre Royal Stratford East in 1990, from where it subsequently transferred to the West End winning the Olivier award for Best Entertainment, this musical tells the story of Nomax. Newly single and broke, he finds solace in the Five Guys Named Moe (Big Moe, Four Eyed Moe, Eat Moe, No Moe and Little Moe), who emerge to rouse him from his misfortunes with a whole lot of soul, music and infectious energy!
Veuillez utiliser la boîte de recherche en haut à gauche de cette page pour rechercher des billets pour Five Guys Named Moe.
Notre
Promesse
Choisissez vos places au moment de la réservation.
Réservation en ligne sécurisée
Service e-Billet
Pas de coûts cachés.

Adresse du théâtre
Marble Arch Theatre
Marble Arch Theatre, Marble Arch, London, W1C 1CX GB
Prochaines représentations