Marble Arch Theatre
Marble Arch Theatre, Marble Arch, London, W1C 1CX GB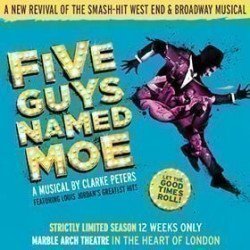 Five Guys Named Moe
Marble Arch Theatre
Séances à partir de: mardi, 29 août 2017
Séances jusqu'à: samedi, 25 novembre 2017
Places
à partir de 10,99€
Réserver
Horaires
Mon
Tue
Wed
Thu
Fri
Sat
Sun
14:30
14:30
19:45
19:45
19:45
19:45
19:45
19:45
Informations Importantes
Please note: All tickets for Five Guys Named Moe will include a souvenir programme (worth £10) that will be handed out on arrival. All premium tickets will receive a glass of bubbly and table service before the show and during the interval.
Séances à partir de:
mardi, 29 août 2017
Séances jusqu'à:
samedi, 25 novembre 2017
Nous avons une grande sélection de billets pas cher pour Five Guys Named Moe à Londres. Vous pouvez économiser jusqu'à 70% du prix du billet! Si vous recherchez des billets réduits pour Five Guys Named Moe au Marble Arch Theatre, toutes nos offres sont ci-dessous.
1

pas de frais de réservation

Places

à partir de 10,99€
Valid on all performances between 18 September and 21 October 2017. Book by 14 September.. Wednesday 20 September 2017.
Veuillez utiliser la boîte de recherche en haut à gauche de cette page pour rechercher des billets pour Five Guys Named Moe.
Notre
Promesse
Choisissez vos places au moment de la réservation.
Réservation en ligne sécurisée
Service e-Billet
Pas de coûts cachés.

Adresse du théâtre
Marble Arch Theatre
Marble Arch Theatre, Marble Arch, London, W1C 1CX GB
Prochaines représentations