Ce spectacle est maintenant fermé.
Faits rapides
Meilleur choix de places du West End
Disponibilité des places en temps réel
Choisissez vos propres places
Votre réservation est enregistrée instantanément dans le système du théâtre
Ce spectacle est maintenant fermé.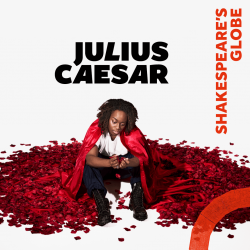 Julius Caesar
4,5/5
-

basé sur

2

avis
Tenez-moi informé
Dites-moi quand les places pour Julius Caesar sont en vente.
Information
Tarifs Réduits
Avis
A propos de Julius Caesar
Horaires
Description de Julius Caesar
This Summer, we confront our own political landscape as Shakespeare's epic tragedy Julius Caesar takes on startlingly new relevance in the Globe Theatre, and across the UK as part of Globe on Tour.
Conspiracy to kill, public broadcast of cunning rhetoric, a divisive fight for Greatness. Ancient Rome has never felt closer to home.When Cassius and Brutus decide Rome's leader Julius Caesar poses a political threat to their beloved country, there's only one solution...Diane Page, winner of the 2021 JMK Award, brings Shakespeare's brutal tale of ambition, incursion, and revolution to life in the Globe and on tour across the UK.
'Th' abuse of greatness is when it disjoins Remorse from power.'
(Act II, scene 1)
Important COVID-19 information
Mask
Unless eating or drinking, all guests are required to wear a mask at all times while inside this venue.
Billets réduits pour Julius Caesar
Nous avons une grande sélection de billets pas cher pour Julius Caesar à Londres. Vous pouvez économiser jusqu'à 70% du prix du billet! Si vous recherchez des billets réduits pour Julius Caesar au Globe Theatre, toutes nos offres sont ci-dessous.
Il n'y a pas d'offres spéciales disponibles pour le moment, mais nous avons toujours des places pas chères pour Julius Caesar au Globe Theatre.
Critiques de Julius Caesar
4,5 sur 5
basé sur

2

avis
Notes globales :
Acteurs
Musique
Costumes
Histoire
Eclairages
Recommandé pour :
Tous (0%)
Familles (0%)
Adolescents (50%)
Couples (50%)
Fans de théâtre (100%)