The Michael Grandage Company
The Michael Grandage Company. Découvrez les meilleurs spectacles de Londres! London Box Office propose un large choix de places aux prix les plus bas. Comédies musicales, pièces de théâtre, one man shows, danse contemporaine, opera, spectacles pour enfants... votre spectacle à Londres est sur LondonBoxOffice.fr.
Resultats: 1 spectacles correspondent à votre recherche.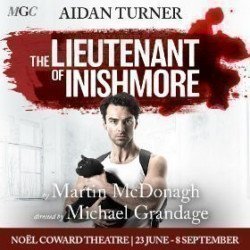 Couples (82%)
Fans de théâtre (94%)
i
MGC Artistic Director Michael Grandage directs a rare revival of Martin McDonagh's critically acclaimed, brilliant satire on terrorism, THE LIEUTENANT OF INISHMORE. Stage and screen actor Aidan Turner, best known for playing the title role in the BBC hit series Poldark, plays Mad Padraic, a terrorist deemed too violent to be a member of the IRA, in this hilarious, acute observation of violence in contemporary culture.
Acteurs: Aidan Turner
Places
à partir de 55,99€