Ce spectacle est maintenant fermé.
Faits rapides
Meilleur choix de places du West End
Disponibilité des places en temps réel
Choisissez vos propres places
Votre réservation est enregistrée instantanément dans le système du théâtre
Ce spectacle est maintenant fermé.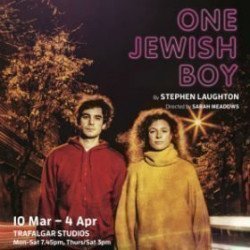 A propos de One Jewish Boy
Horaires
Description de One Jewish Boy
Jesse is paranoid and he's frightened and it's messing up his relationship, his job, his daughter and his life… 
In a bittersweet comedy fuelled by anti-Semitism, One Jewish Boy focusses squarely on the inheritances that haunt us. Asking if the fear of hatred, could be worse than hate itself…?
Critically acclaimed, award-winning writer Stephen Laughton (JB Priestly Award for Writers of Promise 2019 winner, and current Writer in Residence for the Astrophysics Department at the American Museum of Natural History) has written One Jewish Boy as an urgent response to overt anti-Semitism.
With anti-Semitism and racism rife in political parties and hate-crime at unprecedented levels, Stephen Laughton explores one young family's struggle against fear, prejudice and identity.