Oscar Wilde Season
Oscar Wilde Season. Découvrez les meilleurs spectacles de Londres! London Box Office propose un large choix de places aux prix les plus bas. Comédies musicales, pièces de théâtre, one man shows, danse contemporaine, opera, spectacles pour enfants... votre spectacle à Londres est sur LondonBoxOffice.fr.
Resultats: 1 spectacles correspondent à votre recherche.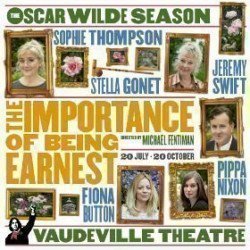 Fans de théâtre (100%)
i
Wilde's much-loved masterpiece throws love, logic and language into the air to make one of theatre's most dazzling firework displays. Don't miss the final instalment of Classic Spring's 'deliciously charming' (Sunday Times) Oscar Wilde Season.
Places
à partir de 22,49€