Ce spectacle est maintenant fermé.
Faits rapides
Meilleur choix de places du West End
Disponibilité des places en temps réel
Choisissez vos propres places
Votre réservation est enregistrée instantanément dans le système du théâtre
Ce spectacle est maintenant fermé.
pas de frais
de réservation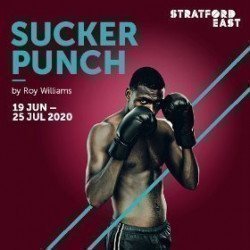 Information
Tarifs Réduits
A propos de Sucker Punch
Horaires
Description de Sucker Punch
1981, South London. Thatcher's Britain.
 
Jab. Double jab, cross. Jab, hook to body.
 
Leon and Troy are best mates trying to figure out their place in the world amid mounting unemployment and simmering racial tensions. After finding solace in Charlie's gym, they start forging their path into the ruthless world of professional boxing.
 
Roy Williams' bruising play examines what it was like to be a young black man in 1980s Britain and asks, how can you fight a system that's desperate to see you fail?
 
Billets réduits pour Sucker Punch
Nous avons une grande sélection de billets pas cher pour Sucker Punch à Londres. Vous pouvez économiser jusqu'à 70% du prix du billet! Si vous recherchez des billets réduits pour Sucker Punch au Theatre Royal Stratford East, toutes nos offres sont ci-dessous.
pas de frais
de réservation
Valid on all performances from 19 Jun-25 Jul 2020.