Ce spectacle est maintenant fermé.
Faits rapides
Meilleur choix de places du West End
Disponibilité des places en temps réel
Choisissez vos propres places
Votre réservation est enregistrée instantanément dans le système du théâtre
Ce spectacle est maintenant fermé.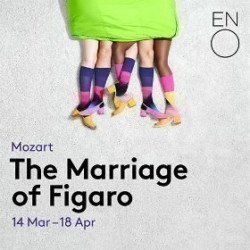 A propos de The Marriage of Figaro
Horaires
Description de The Marriage of Figaro
Mozart's comedy is a whirlwind of mistaken identities and twists and turns, taking place on a single crazy day – the wedding day of Figaro and Susanna.
When their philandering master, Count Almaviva, is determined to bed Susanna before she is wed, Figaro and Susanna conspire with the rejected Countess to outwit him. General mayhem ensues, ending with the Count receiving a lesson in marital fidelity he'll never forget. 
From the first notes of the bustling Overture, Mozart's psychologically complex story portrays the women as wiser, shrewder and more civilised than the men.