66 The Cut, London, SE1 8LZ GB
Faits rapides
Meilleur choix de places du West End
Disponibilité des places en temps réel
Choisissez vos propres places
Votre réservation est enregistrée instantanément dans le système du théâtre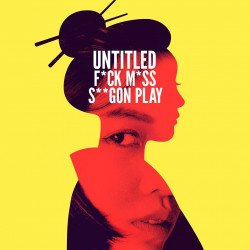 Untitled f*ck m*ss s**gon play
Séances à partir de : mardi 19 septembre 2023
Séances jusqu'à : samedi 4 novembre 2023
Places

à partir de 30,49€
Réserver
Information
Tarifs Réduits
A propos de Untitled f*ck m*ss s**gon play
Horaires
Séances à partir de : mardi 19 septembre 2023
Séances jusqu'à : samedi 4 novembre 2023
Description de Untitled f*ck m*ss s**gon play
Kim is having one of those days. A terrible, very bad, no-good kind of day, and the worst part is...it all feels so familiar. Caught up in a never-ending cycle of events, she looks for the exit but the harder she tries, the worse it gets and she begins to wonder: who's writing this story? She makes a break for it, smashing through a hundred years of bloody narratives that all end the same way. Can she find a way out before it's too late?
With breathless hilarity, Kimber Lee's untitled f*ck m*ss s**gon play jumps through time – wriggling inside of and then exploding lifetimes of repeating Asian stereotypes, wrestling history for the right to control your own narrative in a world that thinks it can tell you who you are. Winner of the inaugural Bruntwood Prize for Playwriting 2019, International Award, this powerful world premiere is directed by Roy Alexander Weise (The Mountaintop) for the Royal Exchange Theatre as part of Manchester International Festival.
 
Jeunes Enfants
Age guidance: 14+
Informations Importantes
Age guidance: 14+

The play contains strong language, references to racist stereotypes of East Asian/South Asian/Pacific Islands people, implied sexual situations, and allusions to miscarriage. There are heavily stylised and unrealistic depictions of suicide, as well as blood, knives and guns.
Assisted performances: 
Relaxed Performances: Fri 20 Oct, 7.30pm & Sat 21 Oct, 2.30pm
BSL Performance: Fri 27 Oct, 7.30pm
Audio Described Performances: Fri 6 Oct, 7.30pm & Thu 19 Oct, 7.30pm
Captioned Performances: Tue 17 Oct 7.30pm & Thu 2 Nov, 7.30pm
Billets réduits pour Untitled f*ck m*ss s**gon play
Nous avons une grande sélection de billets pas cher pour Untitled f*ck m*ss s**gon play à Londres. Vous pouvez économiser jusqu'à 70% du prix du billet! Si vous recherchez des billets réduits pour Untitled f*ck m*ss s**gon play au Young Vic, toutes nos offres sont ci-dessous.
Il n'y a pas d'offres spéciales disponibles pour le moment, mais nous avons toujours des places pas chères pour Untitled f*ck m*ss s**gon play au Young Vic.