Abba Arena, Pudding Mill Lane, London, E15 2PJ GB
Faits rapides
Meilleur choix de places du West End
Disponibilité des places en temps réel
Choisissez vos propres places
Votre réservation est enregistrée instantanément dans le système du théâtre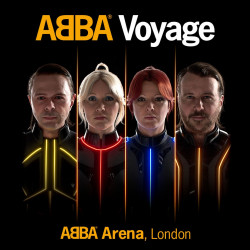 ABBA Voyage
4,9/5
-

basé sur

208

avis

sur

208

avis vérifiés
Séances jusqu'à : lundi 27 mai 2024
Durée : 1 hour 30 minutes (no interval)
Places

à partir de 74,99€
Information
Tarifs Réduits
Avis
A propos de ABBA Voyage
Description de ABBA Voyage
ABBA Voyage is the long-awaited concert from one of the biggest pop acts of all time. Featuring a setlist of hit songs, see ABBA's avatars accompanied by a 10-piece live band, at the custom-built ABBA Arena in London.
Blurring the lines between the physical and digital, see the magic of ABBA brought to life using the latest in motion capture technology.
It's the greatest ABBA performance the world has never seen. Until now.
Dance Floor Tickets Get closer to the action with our Dance Floor tickets. These tickets are for standing (or dancing) only, so you'll be closer to the stage than anyone else and free to dance anywhere within the area.
Please note: The concert involves the use of extensive flashing lights, kinetic lighting, lasers and strobing light effects.
Informations
Séances jusqu'à :


lundi 27 mai 2024

Durée :


1 hour 30 minutes (no interval)

Jeunes Enfants


Recommend 6+. Children under 3 will not be allowed into the venue, those 16 or under must be accompanied by an adult and may not sit in the arena on their own. The Dance Floor area is not recommended for anyone younger than 16.
Horaires
Prochaines représentations de ABBA Voyage au Abba Arena
aujourd'hui
23 sept. 2023
15:00
aujourd'hui
23 sept. 2023
19:45
Billets réduits pour ABBA Voyage
Nous avons une grande sélection de billets pas cher pour ABBA Voyage à Londres. Vous pouvez économiser jusqu'à 70% du prix du billet! Si vous recherchez des billets réduits pour ABBA Voyage au Abba Arena, toutes nos offres sont ci-dessous.
Il n'y a pas d'offres spéciales disponibles pour le moment, mais nous avons toujours des places pas chères pour ABBA Voyage au Abba Arena.
Critiques de ABBA Voyage
4,9 sur 5
basé sur

208

avis
Notes globales :
Acteurs
Musique
Costumes
Histoire
Eclairages
Recommandé pour :

Tous (96%)

Familles (99%)

Adolescents (98%)

Couples (99%)

Fans de théâtre (96%)
Derniers avis des spectateurs
Une belle prouesse technique
Trop court à mon goût
Ecrit le 31 août 2023 par Angélique, Teting Sur Nied, France
Absolument génial
Ecrit le 12 août 2023 par Joel, Valence, France
Super soirée à faire pour tout fan d'abba
Ecrit le 19 juin 2023 par Danièle, Paris (10ème Arrondissement), France
Innovant
À recommander aux fans d'ABBA, qu'ils soient des fans de la première heure ou aux plus jeunes ! Spectacle époustouflant, mettant en scène ces légendes et nous replongeant 40 ans en arrière. Très émouvant !
Ecrit le 16 mai 2023 par Christophe, Parthenay, France
Amazing Wouhaaaaa !
Absolument incroyable !
Ecrit le 12 mars 2023 par Laurie, Blotzheim, France
A voir absolument !!
Ecrit le 16 août 2022 par Sandrine, Saint-genest-lerpt, France