Prince of Wales Theatre
31 Coventry Street, London, W1D 6AS GB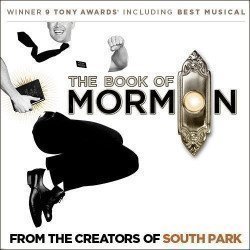 The Book of Mormon
Prince of Wales Theatre
Séances jusqu'à: samedi, 22 juin 2019
Places
à partir de 23,49€
Réserver
Horaires
Mon
Tue
Wed
Thu
Fri
Sat
Sun
14:30
14:30
19:30
19:30
19:30
19:30
19:30
19:30
Jeunes Enfants
Ne convient pas aux jeunes enfants. À partir de 17 ans.
Informations Importantes
Contient des jurons, avec contenu sexuel et susceptible de choquer.
Séances jusqu'à:
samedi, 22 juin 2019
The Book of Mormon – La meilleure critique satirique de la religion.
Susceptibles, s'abstenir ! The Book of Mormon est un spectacle hilarant. Mais c'est de l'humour pour adultes, grossier et irrévérencieux, avec de nombreuses allusions sexuelles et des occasions illimitées d'offenser les plus susceptibles. Le spectacle est réservé aux plus de 17 ans et mieux vaut l'éviter si vous préférez des comédies musicales légères.
Si vous aimez South Park, vous ne serez pas choqués. Le spectacle est écrit par Trey Parker et Matt Stone, créateurs de ce dessin animé pour adultes, ainsi que par Robert Lopez, créateur du gros succès américain, Avenue Q.
C'est un exercice de satire religieuse de haut niveau présentant des aspects caustiques. L'histoire ? Deux mormons sont envoyés en Ouganda pour convertir la population locale. Mais ils reçoivent un accueil très hostile et la situation tourne rapidement et spectaculairement mal, pour notre plus grand bonheur.
Les personnages ? Elder Kevin Price rêve de prêcher la bonne parole à Orlando et est donc déçu de devoir partir pour l'Ouganda. Elder Arnold Cunningham manque de confiance en lui et est en surpoids, ne comprend pas vraiment sa propre religion, est mythomane et insère dès qu'il le peut des références à Star Wars déplacées dans ses enseignements. Elder McKinley est le chef mormon de la mission en Ouganda, un homosexuel refoulé qui met en veille ses sentiments. Mafala Hatimbi est le chef de tribu et Nabulungi sa magnifique fille, qui s'occupe des missionnaires. Alors que les relations se développent, les mormons en viennent à se poser des questions sur leur foi, sur leurs congénères et sur la situation...
Réservez maintenant sur notre site des places à prix réduit pour The Book of Mormon et préparez-vous pour une soirée de divertissement espiègle, provocateur et merveilleusement absurde accompagné d'une musique, de lumières, d'une mise en scène et d'une orchestration récompensés par neuf Tony Awards, nommés pour six Outer Critics Circle Awards et douze Drama Desk Awards. Des rires en perspective !
Nous avons une grande sélection de billets pas cher pour The Book of Mormon à Londres. Vous pouvez économiser jusqu'à 70% du prix du billet! Si vous recherchez des billets réduits pour The Book of Mormon au Prince of Wales Theatre, toutes nos offres sont ci-dessous.
1

pas de frais de réservation

Places

à partir de 31,99€
Valid Wednesday Matinee performances until 22 Jun 2019.. .
Dans la presse
An unstoppable hit. Damnably clever and sharp. The Daily Telegraph
It's the hit of the year. Surprising, beguiling absurdity, and daring at every level. The Times
The most talked about show in London. A blast of often goofy, sometimes glorious musical comic delight. This show is the real deal. The Stage
I absolutely loved it. Seriously inspired and absolutely uproarious. The Independent
The Book of Mormon is viciously funny. Spirited and refreshing; joyous and even cuddly. Its defining feature is a filthy irreverence – an infatuation with making fun of everything, including itself. Evening Standard
Avis des spectateurs
Notes globales:
Acteurs
Musique
Costumes
Histoire
Eclairages
Recommandé:
Tous
Familles
Adolescents
Couples
Fans de théâtre
basé sur 3530 avis
Amazing
Martin Client London Box Office
Book those mormons
The book of mormons is a daring show with great music, lyrics and superb actors. Not for square people (or maybe to open the square people's mind)
tony Client London Box Office
Drôle
Plus vous comprenez l anglais, plus cela sera drôle!
Myriam Client London Box Office
Humoristique
Grande surprise. Malgré que je ne maîtrise pas totalement l'anglais, nous avons passé une soirée vraiment très chouette. Peut être pas spécialement prévu pour les jeunes enfants
joelle Client London Box Office
Formidable
Très drôle. Chorégraphies super. Comédiens parfaits.
Michel Client London Box Office
Amazing!
Celine Client London Box Office
Excellent !!
François Client London Box Office
Etonnant et hilarant
Ravis d'avoir vu cette pièce où la surprise est de mise...Histoire très originale et décalée, très drôle!
Jenny Client London Box Office
show parfait en tous points : rythme, histoire, musique, interprétation
Laurence Client London Box Office
Très festif
A recommander pour le moral.drole et vivifiant
CHRISTINE Client London Box Office
Tout simplement génial !!!
Un superbe spectacle, drôle et merveilleusement bien joué. À voir absolument !!!
Nicolas Client London Box Office
Bonne comédie musicale
Bertrand Client London Box Office
I love Mormon ahaha ! Just awesome
Just the best musical ever! If you don't like musicals normally trust me this one is what you want to see! And if you like the musical welcome in the best of the best!!
Lionel Client London Box Office
Best show ever!!!
Artistes incroyablement talentueux, musique, mise en scène, costume etc parfait! J y retournerais pour chaque voyage à londres!!
sandra Client London Box Office
hilarant, à voir absolument
Magali Client London Box Office
très drôle et magnifique
Très facile à comprendre même si on n'a pas un anglais courant. L'interprétation est superbe.
Anonyme
très drôle et magnifique
Très facile à comprendre même si on n'a pas un anglais courant. L'interprétation est superbe.
Anonyme
trop marrant
c'est vraiment très drôle avec des rebondissements surprenants!
Anonyme
A découvrir d'urgence
une soirée découverte d'un spectacle drôle, enjoué, politiquement incorrect et facile à suivre pour des étrangers.
Anonyme
A great musical to see
The story and the attached ''good words'' might be difficult to understand for non-anglosaxon people and especially those who know nothing about mormons. But the troop is just excellent in all ways and the 2 leading guys make an amazing performance : great singers, great dancers, great players. This show is a must see and a pure moment of pleasure. Special note to the lights and the sets. Lyrics and musics are nice but won't be remembered as hits.
Anonyme
Veuillez utiliser la boîte de recherche en haut à gauche de cette page pour rechercher des billets pour The Book of Mormon.
Notre
Promesse
Choisissez vos places au moment de la réservation.
Réservation en ligne sécurisée
Service e-Billet
Pas de coûts cachés.

Adresse du théâtre
Prince of Wales Theatre
31 Coventry Street, London, W1D 6AS GB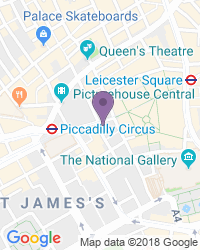 Equipements
Ventilation
Climatisé
Bar
Toilettes pour handicapés
Ecouteurs infrarouge
Membre du
Toilettes
Accessible en fauteuil roulant
Info Theatre
Capacité: 1125
Année de construction: 1884
Prochaines représentations