Noel Coward Theatre
85-88 St Martin's Lane, London, WC2N 4AU GB
A l'Affiche du
Noel Coward Theatre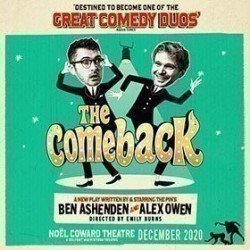 The Comeback
Noel Coward Theatre
Places

à partir de 13,49€
The Comeback, a brilliantly original and hilarious new comedy, is set to delight all generations at the Noel Coward Theatre this December. This debut play from The Pin's award-winning Ben Ashenden and Alex Owen – 'destined to become one of the great comedy duos' (Radio Times) – tells the story of two double acts fighting to wrestle control of the most chaotic, farcical and high-stakes gig of their respective careers. Directed by Emily Burns, The Comeback will have audiences doubled over laughing and wiping a tear away at the end with its heart-warming exploration of bittersweet nostalgia and the enduring power of friendship. This show is a much needed dose of feel-good, dizzying escapism with real emotional heart, and a celebrity guest each night to boot.
Séances à partir de : mardi 8 décembre 2020
Séances jusqu'à : dimanche 3 janvier 2021
Durée : 1 hour 25 minutes (no interval)
The Comeback, Londres
Equipements du Noel Coward Theatre
Climatisé
Bar
Toilettes pour handicapés
Ecouteurs infrarouge
Membre du programme Q-Park
Toilettes
Accessible en fauteuil roulant
Places Handicapés au Noel Coward Theatre
Les spectateurs handicapés et leurs accompagnants peuvent bénéficier de places à tarif réduit. Veuillez contacter le service ACCESS du Noel Coward Theatre au 034 4482 5137.
Adresse du Noel Coward Theatre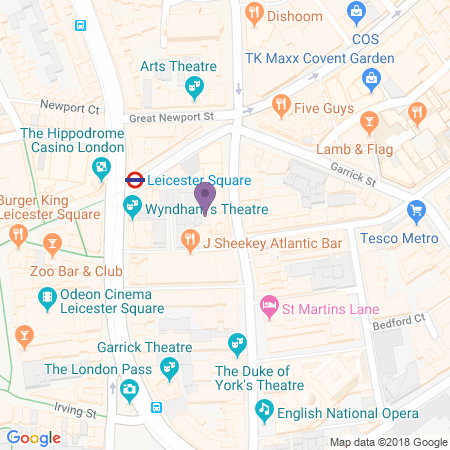 Itinéraire
Accès
Stations de métro
Leicester Square

Covent Garden
Gares
Bus
(Charing Cross) 24, 29, 176; (Strand) 6, 9, 11, 13, 15, 23, 87, 91, 139
Bus de nuit
(Charing Cross) 24, 176, N5, N20, N29, N41, N279; (Strand) 6, 23, 139, N9, N15, N11, N13, N21, N26, N44, N47, N87, N89, N91, N155, N343, N551