31 Shaftesbury Avenue, London, W1D 7ES GB
Faits rapides
Meilleur choix de places du West End
Disponibilité des places en temps réel
Choisissez vos propres places
Votre réservation est enregistrée instantanément dans le système du théâtre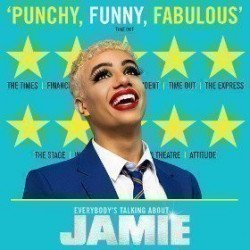 Everybody's Talking About Jamie
4,7/5
-

basé sur

194

avis
Séances à partir de : jeudi 20 mai 2021
Séances jusqu'à : dimanche 29 août 2021
Places

à partir de 27,99€
Réserver
COVID secure venue
This venue will utilise social-distancing, increased health and safety measures, temperature checks and more to ensure your visit is safe and enjoyable.
Buy with confidence
Grab the best seats today, in the knowledge that all bookings can be exchanged.
A propos de Everybody's Talking About Jamie
Jeunes Enfants
Parental discretion advised. Contains some strong language and mild sexual references.
Horaires
Séances à partir de : jeudi 20 mai 2021
Séances jusqu'à : dimanche 29 août 2021
Description de Everybody's Talking About Jamie
Out of the darkness…into the spotlight…back to the place where we belong.
Everybody is talking about the West End's first major musical to reopen. With a hotly-anticipated new film adaptation due to be released this year, be one of the first to see Everybody's Talking About Jamie as it triumphantly returns to the Apollo Theatre and fast approaches its 1000th performance.
Inspired by a true story, Everybody's Talking About Jamie is the award-winning hit musical for today - bang up to date, more relevant than ever and specially updated for the times we live in today.
Jamie New is sixteen and lives on a council estate in Sheffield. Jamie doesn't quite fit in.
Jamie is terrified about the future. He is going to be a sensation.
Supported by his brilliant loving mum and surrounded by his friends, Jamie overcomes prejudice, beats the bullies and steps out of the darkness, into the spotlight.
Noah Thomas, Melissa Jacques, Sejal Keshwala, Hiba Elchikhe, Gillian Ford and special guest star Shane Richie as Hugo/Loco Chanelle, lead the show's return back to the West End, with a twenty-five strong company and a nine-piece band that will 'sweep you away on a tide of mischief, warmth and exuberance' (Financial Times).
With 'songs that have the wow factor' (The Times) by lead singer-songwriter of The Feeling, Dan Gillespie Sells, and 'hilarious' book and lyrics 'with delightful punch' (Whatsonstage), by writer Tom MacRae, this funny, feel-good, musical sensation is ready to be your much-needed glitter in the grey as it reopens at the Apollo Theatre.
Please note: that this venue will offer available seats based on social distancing. Once seats are booked, availability alters to reflect new socially distant seats. If you receive an error and are unable to confirm your seats please select alternatives as your original choice may no longer be socially distanced from neighbouring bookings.
BUY WITH CONFIDENCE - TICKET EXCHANGE
Subject to availability, tickets for Everybody's Talking About Jamie may be exchanged up to 24 hours prior to a performance. Tickets are exchanged on a like for like basis for a future performance and cannot exceed the value of the original booking. No partial refunds can be made if the value of the exchanged tickets is less than the original booking. If you need to exchange your booking please email us at priorityrequests@encore.co.uk
Prochaines représentations de Everybody's Talking About Jamie au Apollo Theatre
Critiques de Everybody's Talking About Jamie
4,7 sur 5
basé sur

194

avis
Notes globales :
Acteurs
Musique
Costumes
Histoire
Eclairages
Recommandé pour :
Tous (64%)
Familles (68%)
Adolescents (91%)
Couples (86%)
Fans de théâtre (89%)
Derniers avis des spectateurs

Super
Ecrit le 13 janvier 2020 par Nathalie, Montrouge, France

Sympa mais pas beaucoup de chansons
Histoire moderne, anglais populaire donc j'avais du mal à suivre les dialogues. Pas mal de dialogue par rapport aux parties chantées / dansées, ca m'a un peu manqué. Mise en scène, décors et orchestration sympa. Danseurs bons, chanteurs corrects mais sans plus.
Ecrit le 20 septembre 2019 par Béatrix, Paris, France

Généreux, intelligent et émouvant
Dans la lignée d'un "Billy Eliot" rencontrant "Priscilla", un formidable show qui donne envie de suivre ses intuitions et d'être qui l'on est quoi qu'en pensent les autres.
Ecrit le 06 mai 2019 par Christophe, Ivry Sur Seine, France

Magnifique show du début à la fin
Ecrit le 08 mars 2019 par Claudine, Tourcoing, France

I'm being emotional rn
Ecrit le 02 mars 2019 par Jacques, Montpellier, France

Hymne à la tolérance
Un spectacle qui présente le grand mérite d'inviter un public varié à l'ouverture d'esprit et à l'acceptation des différences.
Ecrit le 29 octobre 2018 par Laurent, Paris, France