21 New Globe Walk, Bankside, SE1 9DT GB
Faits rapides
Meilleur choix de places du West End
Disponibilité des places en temps réel
Choisissez vos propres places
Votre réservation est enregistrée instantanément dans le système du théâtre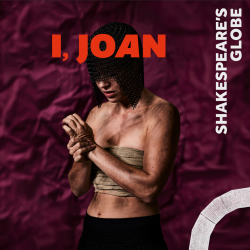 Joan of Arc
Séances jusqu'à : samedi 22 octobre 2022
Places

à partir de 9,49€
Réserver
Information
Tarifs Réduits
A propos de Joan of Arc
Horaires
Séances jusqu'à : samedi 22 octobre 2022
Description de Joan of Arc
A cry for courage erupts in the Globe Theatre this Summer with the premiere of Joan, a powerful new play uncovering the unlikely hero behind the legend.  
The men are all fighting, again. An endless war. From nowhere comes an unexpected leader. Young, poor, female and about to spark a revolution. This is Joan.  
Join us in the wooden 'O' and feel the heat of the sun, the drench of the rain, and the pulse of Joan's passion. With open hearts and raised voices, we invite you to dance and cheer with us as we rediscover Joan's story. Written by Charlie Josephine (Bitch Boxer) and directed by Ilinca Radulian (Co-Director, Richard III, Globe).
'There's a whole sky inside of you! I wish we'd all remember that.'
Important COVID-19 information
Mask
Unless eating or drinking, all guests are required to wear a mask at all times while inside this venue.
Prochaines représentations de Joan of Arc au Globe Theatre
vendredi
7 oct. 2022
19:30
Billets réduits pour Joan of Arc
Nous avons une grande sélection de billets pas cher pour Joan of Arc à Londres. Vous pouvez économiser jusqu'à 70% du prix du billet! Si vous recherchez des billets réduits pour Joan of Arc au Globe Theatre, toutes nos offres sont ci-dessous.
Il n'y a pas d'offres spéciales disponibles pour le moment, mais nous avons toujours des places pas chères pour Joan of Arc au Globe Theatre.