Ce spectacle est maintenant fermé.
Faits rapides
Meilleur choix de places du West End
Disponibilité des places en temps réel
Choisissez vos propres places
Votre réservation est enregistrée instantanément dans le système du théâtre
Ce spectacle est maintenant fermé.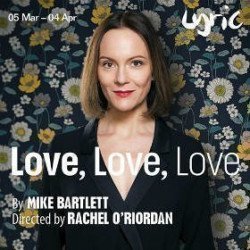 Love Love Love
5/5
-

basé sur

1

avis
A propos de Love Love Love
Horaires
Description de Love Love Love
It's 1967. The Beatles are performing All You Need Is Love on global TV for the very first time. Kenneth and Sandra meet.
Love, Love, Love, charts one couple's journey forty years from the era of free love to the beginning of the 21st Century. Smoking, drinking, affectionate and paranoid, Kenneth and Sandra build their life and family together in a time of increasing national prosperity, when the future is always better than the past.
Now they're retired and their children grown, but why hasn't it all worked out the way they thought?
What happens when the children you think you've done everything for, believe you haven't done enough?
A family go to war over their personal politics in Mike Bartlett's funny and scathing look at the opposing values of two very different generations.