Faits rapides
Meilleur choix de places du West End
Disponibilité des places en temps réel
Choisissez vos propres places
Votre réservation est enregistrée instantanément dans le système du théâtre
Ce spectacle est maintenant fermé.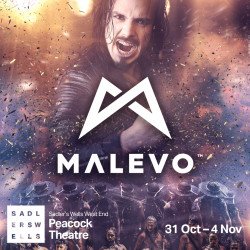 Malevo
4.7/5
-

basé sur

3

avis

sur

3

avis vérifiés
Ce spectacle est maintenant fermé.
Tenez-moi informé
Dites-moi quand les places pour Malevo sont en vente.
Information
Tarifs Réduits
Avis
A propos de Malevo
Description de Malevo
Pounding drums, puffed chests, thundering feet – this is scintillating Argentine dance as you've never seen it before. In a blistering and exhilarating take on the traditional Argentine Malambo, Malevo brings its blazing raw talent to the UK for the very first time.
This dynamic all-male troupe has created a performance that not only pushes the Malambo style beyond its limits but gives audiences an extraordinary visual and sensory experience unlike any other.
The South American sensation Malevo was created by director, choreographer, and dancer, Matías Jaime. The company has reimagined the Argentine dance of Malambo; taking what is a traditional Argentinian folkloric dance and elevating it to a fiery and modern heights. They infuse the dance with elements of flamenco and pulsating drumming live onstage.
The choreography combines the use of boleadoras – a leather and stone hunting tool used by Gauchos – with pounding movements, energetic stomping (zapateados) and lightning footwork (cepillados).
Malevo has worked with the likes of Latin pop star Ricky Martin, reached the semi-final on America's Got Talent, and has performed all across the world, from New York to Osaka. Now these bad-ass men in their leathers are turning up the heat in London.
Billets réduits pour Malevo
Nous avons une grande sélection de billets pas cher pour Malevo à Londres. Vous pouvez économiser jusqu'à 70% du prix du billet! Si vous recherchez des billets réduits pour Malevo au Peacock Theatre, toutes nos offres sont ci-dessous.
Il n'y a pas d'offres spéciales disponibles pour le moment, mais nous avons toujours des places pas chères pour Malevo au Peacock Theatre.
Critiques de Malevo
4.7 sur 5
basé sur

3

avis
Notes globales :
Acteurs
Musique
Costumes
Histoire
Eclairages
Recommandé pour :

Tous (100%)

Familles (100%)

Adolescents (100%)

Couples (100%)

Fans de théâtre (100%)