Peninsula Square, London, SE10 0DX GB
Faits rapides
Meilleur choix de places du West End
Disponibilité des places en temps réel
Choisissez vos propres places
Votre réservation est enregistrée instantanément dans le système du théâtre
Strictly Come Dancing - O2 Arena
5/5
-

basé sur

1

avis
Séances à partir de : vendredi 11 février 2022
Séances jusqu'à : dimanche 13 février 2022
Places

à partir de 57,49€
Réserver
A propos de Strictly Come Dancing - O2 Arena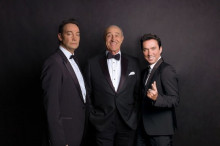 Horaires
Séances à partir de : vendredi 11 février 2022
Séances jusqu'à : dimanche 13 février 2022
Description de Strictly Come Dancing - O2 Arena
2022 will see the return of the magnificent Strictly Come Dancing Live Arena Tour. Kicking off in Birmingham on 20 January 2022, a host of the celebs and professional dancers from the BBC One TV series will waltz around the country performing 33 shows in some of the UK's biggest arenas in Leeds, Newcastle, Manchester, Sheffield, Liverpool, Glasgow, Nottingham and London. As a result of Covid-19 restrictions – and to keep everyone safe – the 2021 arena tour will not go ahead, but tickets for the 2022 arena tour are on sale now.
Informations Importantes
Please note: Tickets will be posted out one week before the event.
Prochaines représentations de Strictly Come Dancing - O2 Arena au O2 Arena
vendredi
11 févr. 2022
19:30
dimanche
13 févr. 2022
13:30
dimanche
13 févr. 2022
18:30