3 Fulton Road, Wembley, London, HA9 8TS GB
Faits rapides
Meilleur choix de places du West End
Disponibilité des places en temps réel
Choisissez vos propres places
Votre réservation est enregistrée instantanément dans le système du théâtre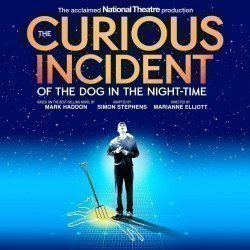 The Curious Incident of the Dog in the Night-Time
4,7/5
-

basé sur

486

avis
Séances à partir de : samedi 20 novembre 2021
Séances jusqu'à : dimanche 9 janvier 2022
Durée : 2 hours 30 minutes
Places

à partir de 27,99€
Réserver
A propos de The Curious Incident of the Dog in the Night-Time
Jeunes Enfants
À partir de 13 ans
Informations Importantes
This production contains strobe lighting, smoke effects, high intensity video & light effects, and loud sound effects. Suitable for 11yrs+
There is some strong language in this production, as there is in the novel. This occurs at the very beginning of the show and infrequently at other points during the show.
Latecomers will be asked to wait whilst watching the latecomers' monitor until a scene called 'The Street' before being allowed into the auditorium. This is approximately 15 minutes into Act 1. Audience members arriving after this time will be required to wait until the interval.
Horaires
Séances à partir de : samedi 20 novembre 2021
Séances jusqu'à : dimanche 9 janvier 2022
Durée : 2 hours 30 minutes
Description de The Curious Incident of the Dog in the Night-Time
Malgré son intelligence supérieure et son génie pour les maths, il ne sait pas gérer la vie de tous les jours. Il ne s'est jamais rendu seul plus loin que le bout de sa rue, ne supporte pas le contact physique et se méfie des étrangers. Interdite par son père, son enquête va le mener au bout d'un voyage effrayant qui bouleversera son univers.
Critiques de The Curious Incident of the Dog in the Night-Time
4,7 sur 5
basé sur

486

avis
Notes globales :
Acteurs
Musique
Costumes
Histoire
Eclairages
Recommandé pour :
Tous (67%)
Familles (71%)
Adolescents (87%)
Couples (87%)
Fans de théâtre (95%)
Derniers avis des spectateurs

SURPRENANT
Pour une première dans un théâtre Londonien je ne regrette pas d'avoir choisi cette pièce. La scénographie et le visuel sont largement les points forts de ce spectacle.
Ecrit le 11 avril 2019 par Laurent, Saint Aignan Grandlieu, France

un très bon moment
Ecrit le 01 février 2015 par Anonyme