St Martin's Lane, London, WC2N 4ES GB
Faits rapides
Meilleur choix de places du West End
Disponibilité des places en temps réel
Choisissez vos propres places
Votre réservation est enregistrée instantanément dans le système du théâtre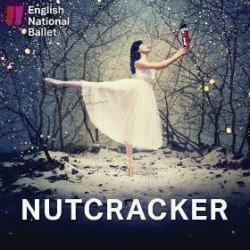 The Nutcracker - English National Ballet
4,9/5
-

basé sur

31

avis
Séances à partir de : vendredi 1 janvier 2021
Séances jusqu'à : samedi 2 janvier 2021
Durée : 2 hours
Places

à partir de 18,49€
Réserver
A propos de The Nutcracker - English National Ballet
Jeunes Enfants
Under 5s are not permitted
Horaires
Séances à partir de : vendredi 1 janvier 2021
Séances jusqu'à : samedi 2 janvier 2021
Durée : 2 hours
Description de The Nutcracker - English National Ballet
The timeless Christmas story of Nutcracker makes its way back to the London Coliseum for Christmas, performed by the brilliant English National Ballet.
On Christmas Eve in Edwardian London, Clara is given a Nutcracker doll for Christmas, and the pair go on an enchanted adventure to discover a magical world. Clara battles with a Mouse King, discovers a handsome prince, and journeys to the Land of Sweets, which is ruled by the Sugar Plum Fairy. The pair meet sweet-makers from all around the world, and eventually take off in a hot air balloon ride over the glistening Land of the Snow, where Clara's adventure is only just beginning.
The iconic ballet features a divine score by Tchaikovsky including 'Waltz of the Flowers', and 'Dance of the Sugar Plum Fairy'.
Over 100 dancers and musicians will be bringing Nutcracker to life, and the show will feature exquisite dancing, beautiful costumes and scenery, and the score played by a live orchestra.
Prochaines représentations de The Nutcracker - English National Ballet au London Coliseum
Critiques de The Nutcracker - English National Ballet
4,9 sur 5
basé sur

31

avis
Notes globales :
Acteurs
Musique
Costumes
Histoire
Eclairages
Recommandé pour :
Tous (77%)
Familles (100%)
Adolescents (81%)
Couples (84%)
Fans de théâtre (84%)
Derniers avis des spectateurs

Magie de Noel et magie tout court
Tout était feerique, depuis la musique jusqu'aux performances dansées. L histoire est un peu revisitée mais c est peut-être aussi bien. La danseuse étoile a la grâce du cygne et la légèreté d une plume. La mise en scène est particulièrement soignée et les personnages sont aussi bon acteurs que danseurs. Deux heures de plaisir pur. Seul bémol : les quelques spectateurs qui mangent bruyamment pendant la représentation.
Ecrit le 01 janvier 2020 par Anne, Brie Comte Robert, France

Magique
C'est un grand classique interprété avec brio. Je le conseil. Excellent ballet à voir en famille.
Ecrit le 28 décembre 2019 par Yann, Gif Sur Yvette, France

Un bon ensemble des enfants et des adultes sur scène - bravo!
Ecrit le 11 janvier 2016 par Vera, Marin-epagnier, Switzerland

Magnifique
Ecrit le 29 décembre 2013 par Anonyme