Ce spectacle est maintenant fermé.
Faits rapides
Meilleur choix de places du West End
Disponibilité des places en temps réel
Choisissez vos propres places
Votre réservation est enregistrée instantanément dans le système du théâtre
Ce spectacle est maintenant fermé.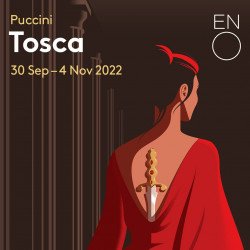 Tosca
4,8/5
-

basé sur

6

avis
Tenez-moi informé
Dites-moi quand les places pour Tosca sont en vente.
Information
Tarifs Réduits
Avis
A propos de Tosca
Horaires
Description de Tosca
Compromise is for the weak: and Tosca is nothing of the sort.
With her artist beau Cavaradossi (Adam Smith) competing for her affections against the sadistic police chief Scarpia (Noel Bouley), Tosca's (Sinead Campbell Wallace) story becomes intertwined with the tumultuous political landscape of Rome itself.
Already the talk of the town, opera singer Tosca becomes increasingly desperate to stop Scarpia's plans and must resort to deadly means to wrest back her freedom from those who would suppress it. After all: when passion and politics collide, love can prove a fatal weakness.
Christof Loy's production of Tosca sets the roller coaster story of love, lust, murder and intrigue against a production dripping in operatic grandeur, with Puccini's beautiful score conducted by one of Britain's finest young conductors, Leo Hussain.
With a dramatic story line and Puccini's richly romantic score, book your opera tickets now for Tosca: one of the world's most famous operas.
Production from The Finnish National Opera and Ballet.
Sung in English. The surtitles system displays sung words above the stage.
Venues are adapting to the latest guidance on staying Covid secure - please visit the venue's website to ensure you're up to date with the latest entry requirements and protocols for your show.
Billets réduits pour Tosca
Nous avons une grande sélection de billets pas cher pour Tosca à Londres. Vous pouvez économiser jusqu'à 70% du prix du billet! Si vous recherchez des billets réduits pour Tosca au London Coliseum, toutes nos offres sont ci-dessous.
Il n'y a pas d'offres spéciales disponibles pour le moment, mais nous avons toujours des places pas chères pour Tosca au London Coliseum.
Critiques de Tosca
4,8 sur 5
basé sur

6

avis
Notes globales :
Acteurs
Musique
Costumes
Histoire
Eclairages
Recommandé pour :
Tous (83%)
Familles (83%)
Adolescents (83%)
Couples (83%)
Fans de théâtre (83%)