St Martin's Lane, London, WC2N 4ES GB
Faits rapides
Meilleur choix de places du West End
Disponibilité des places en temps réel
Choisissez vos propres places
Votre réservation est enregistrée instantanément dans le système du théâtre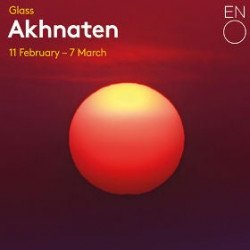 Akhnaten
Séances à partir de : samedi 11 mars 2023
Séances jusqu'à : mercredi 5 avril 2023
Durée : 2 hours 50 minutes
Places

à partir de 14,49€
Réserver
Information
Tarifs Réduits
A propos de Akhnaten
Horaires
Séances à partir de : samedi 11 mars 2023
Séances jusqu'à : mercredi 5 avril 2023
Durée : 2 hours 50 minutes
Description de Akhnaten
Akhnaten is a mesmerising work whose text draws on ancient hymns, prayers and inscriptions sung in their original Egyptian, Hebrew and Akkadian. The opera's unique mood will transport you to the ancient world through music that combines Glass's characteristic minimalist voice with stylised movement and choreographed juggling to visualise the rhythms of his score.
Prochaines représentations de Akhnaten au London Coliseum
vendredi
24 mars 2023
19:30
mercredi
29 mars 2023
19:30
Billets réduits pour Akhnaten
Nous avons une grande sélection de billets pas cher pour Akhnaten à Londres. Vous pouvez économiser jusqu'à 70% du prix du billet! Si vous recherchez des billets réduits pour Akhnaten au London Coliseum, toutes nos offres sont ci-dessous.
Il n'y a pas d'offres spéciales disponibles pour le moment, mais nous avons toujours des places pas chères pour Akhnaten au London Coliseum.