The Arches, Villiers Street, London, WC2N 6NL GB
Faits rapides
Meilleur choix de places du West End
Disponibilité des places en temps réel
Choisissez vos propres places
Votre réservation est enregistrée instantanément dans le système du théâtre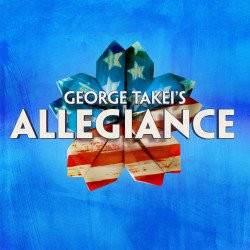 George Takei's Allegiance
5/5
-

basé sur

2

avis
Séances jusqu'à : samedi 8 avril 2023
Durée : Approx 2 hours 20 minutes, including interval
Acteurs: George Takei, Telly Leung
Places

à partir de 34,49€
Réserver
Information
Tarifs Réduits
Avis
A propos de George Takei's Allegiance
Horaires
Séances jusqu'à : samedi 8 avril 2023
Durée : Approx 2 hours 20 minutes, including interval
Acteurs:
George Takei, Telly Leung
Description de George Takei's Allegiance
Inspired by the life story of renowned actor and activist George Takei, the UK premiere of the uplifting Broadway Musical, Allegiance, follows the story of the Kimura family and their struggles in the aftermath of the attack on Pearl Harbor. 
In a world ravaged by the effects of war, Allegiance reveals the courage and loyalty of family in a time of great injustice as 120,000 Japanese Americans are forced into internment camps, testing the power and resilience of the human spirit. 
Sam Kimura (Telly Leung) believes enlisting is the way to demonstrate his patriotism and win the freedom of his people. His sister Kei (Aynrand Ferrer) sides against him and joins the resistance movement in the camp. Soon the political conflict is mirrored within the Kimura family, leading brother and sister down starkly different paths as they decide where their allegiance lies. 
Created by Lorenzo Thione and Jay Kuo with a book by Marc Acito, George Takei's Allegiance held its world premiere at San Diego's Old Globe Theatre in 2012, setting box-office records. After a triumphant run on Broadway and a subsequent film seen around the world, Allegiance transfers to London for its European premiere in a newly conceived production directed and choreographed by Tara Overfield Wilkinson, playing at Charing Cross Theatre from 7 January - 8 April 2023. 
Prochaines représentations de George Takei's Allegiance au Charing Cross Theatre
mercredi
29 mars 2023
14:30
mercredi
29 mars 2023
19:30
vendredi
31 mars 2023
19:30
Billets réduits pour George Takei's Allegiance
Nous avons une grande sélection de billets pas cher pour George Takei's Allegiance à Londres. Vous pouvez économiser jusqu'à 70% du prix du billet! Si vous recherchez des billets réduits pour George Takei's Allegiance au Charing Cross Theatre, toutes nos offres sont ci-dessous.
pas de frais
de réservation
Valid for selected performances
-8%
Normal 62,99€
Réduit 57,99€
SAVE ON TICKET PRICES Valid Monday - Saturday evening performances 8 - 31 March 2023. Book by 31 March 2023.