Ce spectacle est maintenant fermé.
Faits rapides
Meilleur choix de places du West End
Disponibilité des places en temps réel
Choisissez vos propres places
Votre réservation est enregistrée instantanément dans le système du théâtre
Ce spectacle est maintenant fermé.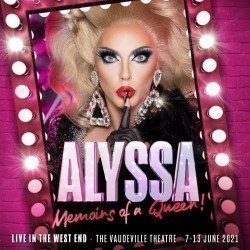 Alyssa, Memoirs of a Queen!
5/5
-

basé sur

1

avis
A propos de Alyssa, Memoirs of a Queen!
Horaires
Description de Alyssa, Memoirs of a Queen!
London, are you prepared?
For one week only, experience the magic of Alyssa Edwards as she sashays her way into London's glittering West End from 7 – 13 June!
From young gay boy in Mesquite, Texas, to global fame on RuPaul's Drag Race season 5 and a triumphant return to season 2 of RuPaul's Drag Race All Stars, Alyssa is hailed as one of "the most powerful drag queens in America" by New York Magazine.
Having recently starred in the critically acclaimed Netflix docuseries Dancing Queen, Ms. Edwards now brings her fully realized autobiographical extravaganza, complete with iconic costumes, high kicks and splits, phenomenal dancers and outrageous tongue pops to the Vaudeville Theatre this summer.
Don't miss the world premiere of this much anticipated drag spectacular, where herstory will be brought to life!
Please note: that this venue will offer available seats based on social distancing. Once seats are booked, availability alters to reflect new socially distant seats. If you receive an error and are unable to confirm your seats please select alternatives as your original choice may no longer be socially distanced from neighbouring bookings. 
BUY WITH CONFIDENCE - TICKET EXCHANGE
Subject to availability, tickets for Alyssa, Memoirs of a Queen! may be exchanged up to 24 hours prior to a performance. Tickets are exchanged on a like for like basis for a future performance and cannot exceed the value of the original booking. No partial refunds can be made if the value of the exchanged tickets is less than the original booking. If you need to exchange your booking please email us at priorityrequests@encore.co.uk