Ce spectacle est maintenant fermé.
Faits rapides
Meilleur choix de places du West End
Disponibilité des places en temps réel
Choisissez vos propres places
Votre réservation est enregistrée instantanément dans le système du théâtre
Ce spectacle est maintenant fermé.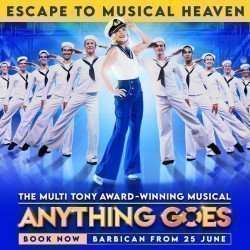 Anything Goes
4,9/5
-

basé sur

41

avis
Acteurs: Bonnie Langford, Kerry Ellis, Simon Callow, Denis Lawson
Information
Tarifs Réduits
Avis
A propos de Anything Goes
Horaires
Acteurs:
Bonnie Langford, Kerry Ellis, Simon Callow, Denis Lawson
Description de Anything Goes
The sold-out musical sensation, Anything Goes returns to the Barbican by popular demand. The 'musical equivalent of sipping one glass of champagne after another' returns for a limited 7 week season.
The production for 2022 will star multi-award-winner Kerry Ellis (Wicked/We Will Rock You) as Reno Sweeney and Olivier Award Winner Denis Lawson (Bleak House/Star Wars) as Moonface Martin. Joining them is Olivier Award Winner Simon Callow (Art/Death in Paradise) as Elisha Whitney and Musical Theatre Royalty Bonnie Langford (EastEnders/9 to 5) as Evangeline Harcourt.
Featuring a 50 strong cast and ensemble of the finest we have to offer on the London stage (including tap dancing sailors!) and a full-sized live orchestra, this heart-warming and hilarious production of Anything Goes sold out during its last run at the Barbican.
Directed by the multi-award-winning Broadway director and choreographer Kathleen Marshall, this production for London features farcical fun and spectacular show stopping dance routines, all set to Cole Porter's joyful score, including 'I Get A Kick Out of You', 'You're the Top' and the show stopping 'Anything Goes'.
Billets réduits pour Anything Goes
Nous avons une grande sélection de billets pas cher pour Anything Goes à Londres. Vous pouvez économiser jusqu'à 70% du prix du billet! Si vous recherchez des billets réduits pour Anything Goes au Barbican Theatre, toutes nos offres sont ci-dessous.
Il n'y a pas d'offres spéciales disponibles pour le moment, mais nous avons toujours des places pas chères pour Anything Goes au Barbican Theatre.
Critiques de Anything Goes
4,9 sur 5
basé sur

41

avis
Notes globales :
Acteurs
Musique
Costumes
Histoire
Eclairages
Recommandé pour :
Tous (83%)
Familles (88%)
Adolescents (85%)
Couples (90%)
Fans de théâtre (93%)
Derniers avis des spectateurs

Super spectacle
Ecrit le 24 août 2022 par Yves, Paris, France

Wonderful!
We spent a wonderful time! Everything was excellent!
Ecrit le 19 août 2022 par Carole, Antony, France