Ce spectacle est maintenant fermé.
Faits rapides
Meilleur choix de places du West End
Disponibilité des places en temps réel
Choisissez vos propres places
Votre réservation est enregistrée instantanément dans le système du théâtre
Ce spectacle est maintenant fermé.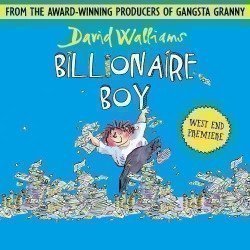 A propos de Billionaire Boy
Horaires
Description de Billionaire Boy
From the award-winning West End producers of Gangsta Granny comes this amazing new production of David Walliams' best-selling story Billionaire Boy!
Joe Spud is twelve years old and the richest boy in the country! He has his own sports car, two crocodiles as pets and £100,000 a week pocket money! But what Joe doesn't have is a friend. So he decides to leave his posh school and start at the local comp. But things don't go as planned for Joe and life becomes a rollercoaster as he tries to find what money can't buy!
Following a sell-out run of Gangsta Granny at the Garrick Theatre in 2017, Birmingham Stage Company are delighted to return to the Garrick this summer with Billionaire Boy.
Important COVID Entry Requirements
Mask
You are required to wear a mask at all times while inside this venue.
Social distancing
You are required to keep distance from other audience members and the venue's staff while inside this venue
Covid safety
This venue has additional Covid-19 safety measures in place to ensure the health and well-being of the staff, performers, and guests.
This venue is complying with the latest industry 'See It Safely' guidelines.