South Bank, London, SE1 9PX GB
Faits rapides
Meilleur choix de places du West End
Disponibilité des places en temps réel
Choisissez vos propres places
Votre réservation est enregistrée instantanément dans le système du théâtre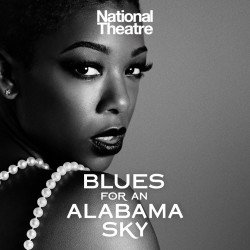 Blues for an Alabama Sky
Séances jusqu'à : samedi 5 novembre 2022
Places

à partir de 27,49€
Réserver
Information
Tarifs Réduits
A propos de Blues for an Alabama Sky
Horaires
Séances jusqu'à : samedi 5 novembre 2022
Description de Blues for an Alabama Sky
To realise our dreams, we must wake up.
New York, 1930.
Following a decade of creative explosion, the Harlem Renaissance is starting to feel the bite of the Great Depression.
In the face of hardship and dwindling opportunity, Angel and her friends battle to keep their artistic dreams alive.
But, when Angel falls for a stranger from Alabama, their romance forces the group to make good on their ambitions, or give in to the reality of the time.
Lynette Linton directs a startling revival of this extraordinary play by Pearl Cleage. Samira Wiley (The Handmaid's Tale, Orange Is the New Black) makes her UK stage debut alongside a cast that includes Ronkẹ Adékoluẹjo (Three Sisters), Osy Ikhile (Sweat), Sule Rimi (Barber Shop Chronicles) and Giles Terera (Death of England: Face to Face).
Informations Importantes
Captioned performance
Friday 4 November at 7.30pm
BSL performance
Wednesday 19 October at 7.30pm
Audio-described performance
Thursday 27 October at 7.30pm with a Touch Tour at 6pm
Chilled performance
Saturday 15 October at 2.30pm
Billets réduits pour Blues for an Alabama Sky
Nous avons une grande sélection de billets pas cher pour Blues for an Alabama Sky à Londres. Vous pouvez économiser jusqu'à 70% du prix du billet! Si vous recherchez des billets réduits pour Blues for an Alabama Sky au Lyttelton - National Theatre, toutes nos offres sont ci-dessous.
Il n'y a pas d'offres spéciales disponibles pour le moment, mais nous avons toujours des places pas chères pour Blues for an Alabama Sky au Lyttelton - National Theatre.