6 Panton Street, London, SW1Y 4DN GB
Faits rapides
Meilleur choix de places du West End
Disponibilité des places en temps réel
Choisissez vos propres places
Votre réservation est enregistrée instantanément dans le système du théâtre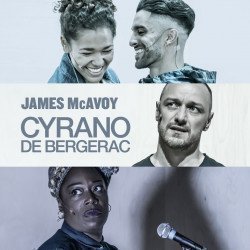 Cyrano de Bergerac
4,8/5
-

basé sur

25

avis
Séances à partir de : jeudi 3 février 2022
Séances jusqu'à : samedi 12 mars 2022
Durée : 2 hours 50 minutes
Acteurs: James McAvoy
Places

à partir de 56,99€
Réserver
A propos de Cyrano de Bergerac
Horaires
Séances à partir de : jeudi 3 février 2022
Séances jusqu'à : samedi 12 mars 2022
Durée : 2 hours 50 minutes
Acteurs:
James McAvoy
Description de Cyrano de Bergerac
'The most breathtakingly exciting show in London' (Evening Standard) is back for 5 weeks only.
The Jamie Lloyd Company's Olivier award-winning production of Cyrano De Bergerac returns, following a sold-out season at the Playhouse Theatre in 2019. James McAvoy reprises his critically acclaimed role in this unmissable revival of Edmond Rostand's masterwork, inventively and ingeniously adapted by Martin Crimp. Jamie Lloyd directs a world-class cast, in an electrifying ensemble performance that celebrates linguistic ingenuity and the power of human connection. 
Fierce with a pen and notorious in combat, Cyrano almost has it all - if only he could win the heart of his true love. There's just one big problem: he has a nose as huge as his heart. Will a society engulfed by narcissism get the better of De Bergerac - or can his mastery of language set Roxane's world alight? 
Cyrano De Bergerac blazes into the Harold Pinter Theatre from 3 Feb for a strictly limited 5-week 
Important COVID-19 information
Mask
We recommend that you wear a mask while inside this venue.
Proof of vaccine and/or test
You are required to show proof of a negative Covid-19 test or proof of vaccination in order to attend this performance.
Health check
When you arrive at this venue, you may be asked to fill out a health questionnaire or have your temperature taken.
Covid safety
This venue has additional Covid-19 safety measures in place to ensure the health and well-being of the staff, performers, and guests.
Additional information
This venue is complying with the latest industry 'See It Safely' guidelines.
Jeunes Enfants
12+
Contains swearing and full nudity.
Informations Importantes
Please note that all Upper Circle seats are Restricted Legroom.
Please be aware there is no re-admission into the auditorium once the performance has started. The show is 2 hours 50 mins (Part One: 1 hour and 29 mins; Part Two 55 mins).
Prochaines représentations de Cyrano de Bergerac au Harold Pinter Theatre
vendredi
4 févr. 2022
19:30
dimanche
6 févr. 2022
14:30
mercredi
9 févr. 2022
19:30
Critiques de Cyrano de Bergerac
4,8 sur 5
basé sur

25

avis
Notes globales :
Acteurs
Musique
Costumes
Histoire
Eclairages
Recommandé pour :
Tous (56%)
Familles (56%)
Adolescents (76%)
Couples (92%)
Fans de théâtre (100%)
Derniers avis des spectateurs

Magnifique soirée
100% satisfaite
Ecrit le 02 février 2020 par Françoise, Pithiviers, France

Très bonne représentation moderne
Ecrit le 29 janvier 2020 par Nabila, Leffrinckoucke, France

Excellent mais si vous êtes devant
J'avais une place au 7 eme rang donc c'était super. Mais ma mère qui était tout en haut n'a absolument rien vu. Ne prenez pas de place sur le upper circle
Ecrit le 23 janvier 2020 par Caroline, Port St Louis, France