2 Queen Caroline Street, London, W6 9QH GB
Faits rapides
Meilleur choix de places du West End
Disponibilité des places en temps réel
Choisissez vos propres places
Votre réservation est enregistrée instantanément dans le système du théâtre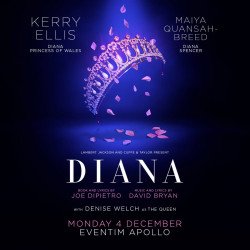 Diana
Séances à partir de : lundi 4 décembre 2023
Séances jusqu'à : lundi 4 décembre 2023
Durée : TBC
Acteurs: Kerry Ellis
Places

à partir de 55,49€
Information
Tarifs Réduits
A propos de Diana
Acteurs:
Kerry Ellis
Description de Diana
Mother. Daughter. Sister. Wife. Philanthropist. Icon. Princess.
The dazzling and devastating life of Princess Diana takes centre stage in this original musical by writers David Bryan and Joe DiPietro - best known for Memphis.
It is 1996. Diana has divorced the heir to the throne. She is free.
This radical new version of Diana: The Musical, directed by Owen Horsley, hands the microphone to Diana as she reflects on her past. In a theatrical twist, this is a tale in two parts, narrated by Diana (Kerry Ellis) as she looks back on herself as the 19 year old Diana (Maiya Quansah-Breed) that captured the nation.
On this stage she is in control of her narrative and her story is brought to life with humour and satire and in turn reveals a woman who, having just signed her divorce papers, sees a future filled with opportunity.
Following its viral Netflix recording, this will be the first time the UK has seen this iconic Broadway musical live on stage. Featuring brilliant, 80s-inspired mega-hit show-tunes, and guest-starring Denise Welch as The Queen, this show promises to be a fabulous night out.
Informations
Séances à partir de :


lundi 4 décembre 2023

Séances jusqu'à :


lundi 4 décembre 2023

Durée :


TBC

Jeunes Enfants

Horaires
Billets réduits pour Diana
Nous avons une grande sélection de billets pas cher pour Diana à Londres. Vous pouvez économiser jusqu'à 70% du prix du billet! Si vous recherchez des billets réduits pour Diana au Hammersmith Apollo (Eventim), toutes nos offres sont ci-dessous.
Il n'y a pas d'offres spéciales disponibles pour le moment, mais nous avons toujours des places pas chères pour Diana au Hammersmith Apollo (Eventim).