103 The Cut, London, SE1 8NB GB
Faits rapides
Meilleur choix de places du West End
Disponibilité des places en temps réel
Choisissez vos propres places
Votre réservation est enregistrée instantanément dans le système du théâtre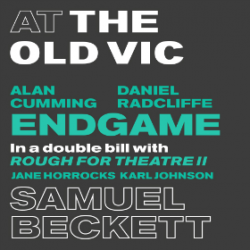 Endgame
Séances jusqu'à : samedi 28 mars 2020
Places

à partir de 28,99€
Réserver
Information
Tarifs Réduits
A propos de Endgame
Jeunes Enfants
Suitable for ages 14+.
Infrequent use of strong language.
Horaires
Séances jusqu'à : samedi 28 mars 2020
Description de Endgame
Go and get two bicycle-wheels.'
'There are no more bicycle-wheels.'
'What have you done with your bicycle?'
'I never had a bicycle.'
Nothing stirs outside. In a bare room, Hamm, an old, blind tyrant, is locked in a stalemate with his servant Clov. Interrupted only by the nostalgic musings of Hamm's ancient, dustbin-dwelling parents, this bleakly funny double act cling stubbornly to their routine of casual savagery and mutual dependence.
Richard Jones (The Hairy Ape, Into the Woods) directs Beckett's macabre comedy in which hope and cruelty are the last things to die.
Endgame will be presented in a double bill with Samuel Beckett's rarely seen short play Rough for Theatre II, performed by members of the company.
Prochaines représentations de Endgame au Old Vic Theatre
mercredi
26 févr. 2020
14:30
mercredi
26 févr. 2020
19:30
Billets réduits pour Endgame
Nous avons une grande sélection de billets pas cher pour Endgame à Londres. Vous pouvez économiser jusqu'à 70% du prix du billet! Si vous recherchez des billets réduits pour Endgame au Old Vic Theatre, toutes nos offres sont ci-dessous.
-38%
Normal 47,99€
Réduit 29,99€
Valid Matinees from 6 Feb - 28 Mar. Book by 9 Mar 2020
-36%
Normal 65,99€
Réduit 41,99€
Valid Matinees from 6 Feb - 28 Mar. Book by 9 Mar 2020 Excludes 19 Feb & 11 Mar