Ce spectacle est maintenant fermé.
Faits rapides
Meilleur choix de places du West End
Disponibilité des places en temps réel
Choisissez vos propres places
Votre réservation est enregistrée instantanément dans le système du théâtre
Ce spectacle est maintenant fermé.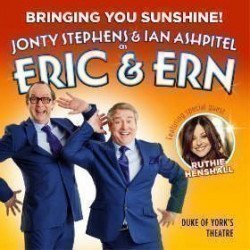 Eric and Ern
4,6/5
-

basé sur

5

avis
A propos de Eric and Ern
Horaires
Description de Eric and Ern
For all the family from 8 to 108 Eric and Ern is a brilliant homage to Morecambe and Wise crammed full of those famous comedy sketches, from Grieg's Piano concerto, Mr Memory…'Arsenal' to the paper bag trick!
From the Olivier Award-nominated duo Ian Ashpitel and Jonty Stephens, this nostalgic show evokes memories of a time when whole families would huddle around the telly on Sunday evenings. 
Bringing you sunshine, this show is full of Morecambe and Wise's most loved routines, songs and sketches and of course a musical guest.  This show hits all the right notes.
Featuring special guest star Ruthie Henshall (star of Broadway and the West End, previously in Cats, Miss Saigon, Billy Elliot, to name but a few!)
'You have the giddy out of time illusion that you are watching the legendary double-act live' - Independent
'I never thought I'd see Morecambe and Wise live – I think I just have!' - Ben Elton