St Martin's Lane, London, WC2N 4ES GB
Faits rapides
Meilleur choix de places du West End
Disponibilité des places en temps réel
Choisissez vos propres places
Votre réservation est enregistrée instantanément dans le système du théâtre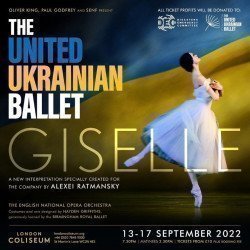 Giselle
Séances à partir de : mardi 13 septembre 2022
Séances jusqu'à : samedi 17 septembre 2022
Durée : 2 hours 10 minutes
Places

à partir de 14,49€
Réserver
Information
Tarifs Réduits
A propos de Giselle
Description de Giselle
Of all Romantic ballets Giselle is the one to see and know. It is a dramatic story of betrayal, nights filled with supernatural spirits (the classic moonlit White Act) and love that transcends even death. Adolphe Adam's music, conducted by Music Director of The Royal Ballet Barry Wordsworth and by Koen Kessels, Music Director of Birmingham Royal Ballet, is perfect to conjure up the atmosphere of the forest, the strong emotions of the characters and the ghostly world of the Wilis.
The title role is a major challenge for any ballerina, both technically and dramatically, from Giselle's early love to her poignant descent into madness and her final act of protecting forgiveness from beyond the grave. It has a wealth of ensembles to bring the full company of The Royal Ballet to the stage, and solo roles of pure dance and expressive mime. Peter Wright's beautiful production retains all the important elements of Giselle's great classical heritage. It is no surprise then that this is not just a regular favourite of ballet aficionados but also a wonderful work through which anyone can discover the enduring appeal of classical ballet.
Prochaines représentations de Giselle au London Coliseum
mercredi
14 sept. 2022
19:30
vendredi
16 sept. 2022
19:30
Billets réduits pour Giselle
Nous avons une grande sélection de billets pas cher pour Giselle à Londres. Vous pouvez économiser jusqu'à 70% du prix du billet! Si vous recherchez des billets réduits pour Giselle au London Coliseum, toutes nos offres sont ci-dessous.
Il n'y a pas d'offres spéciales disponibles pour le moment, mais nous avons toujours des places pas chères pour Giselle au London Coliseum.