St Martin's Lane, London, WC2N 4ES GB
Faits rapides
Meilleur choix de places du West End
Disponibilité des places en temps réel
Choisissez vos propres places
Votre réservation est enregistrée instantanément dans le système du théâtre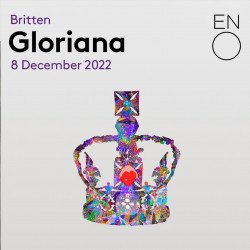 Gloriana
Séances à partir de : jeudi 8 décembre 2022
Séances jusqu'à : jeudi 8 décembre 2022
Durée : 2h 30m (incl. 1 interval)
Places

à partir de 13,99€
Réserver
Information
Tarifs Réduits
A propos de Gloriana
Horaires
Séances à partir de : jeudi 8 décembre 2022
Séances jusqu'à : jeudi 8 décembre 2022
Durée : 2h 30m (incl. 1 interval)
Description de Gloriana
In celebration of Queen Elizabeth II's Platinum Jubilee, we present a rarely performed gem from Benjamin Britten's pool of works: Gloriana.
First composed for the Coronation of our current monarch, Gloriana is presented as a concert performance, featuring the ENO Chorus and Orchestra under the baton of ENO Music Director Martyn Brabbins, and featuring a bevy of ENO favourites, such as Charles Rice, Sophie Bevan, Alexandra Oomens and Alex Otterburn.
Set in the later years of Queen Elizabeth I's (Christine Rice) reign, Gloriana focuses on the relationship between the monarch and the Earl of Essex, Robert Devereux (Robert Murray). At first friends and confidantes, the Earl and Queen later become at odds with a series of unfortunate circumstances, including an attempted coup.
Depicting a Queen at her strongest, yet perhaps at her most human, Gloriana serves a celebration of Queen Elizabeth II's Platinum Jubilee.
Venues are adapting to the latest guidance on staying Covid secure - please visit the venue's website to ensure you're up to date with the latest entry requirements and protocols for your show.
 
Prochaines représentations de Gloriana au London Coliseum
Billets réduits pour Gloriana
Nous avons une grande sélection de billets pas cher pour Gloriana à Londres. Vous pouvez économiser jusqu'à 70% du prix du billet! Si vous recherchez des billets réduits pour Gloriana au London Coliseum, toutes nos offres sont ci-dessous.
Il n'y a pas d'offres spéciales disponibles pour le moment, mais nous avons toujours des places pas chères pour Gloriana au London Coliseum.