268-269 Tottenham Court Road, London, W1T 7AQ GB
Faits rapides
Meilleur choix de places du West End
Disponibilité des places en temps réel
Choisissez vos propres places
Votre réservation est enregistrée instantanément dans le système du théâtre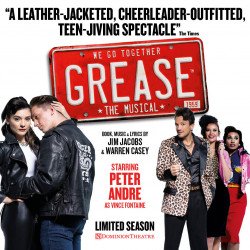 Grease
4,4/5
-

basé sur

341

avis
Séances jusqu'à : samedi 29 octobre 2022
Places

à partir de 20,99€
Réserver
Information
Tarifs Réduits
Avis
A propos de Grease
Horaires
Séances jusqu'à : samedi 29 octobre 2022
Description de Grease
Grittier and more electrifying than ever before, the world's best-loved musical returns to London, starring Peter Andre as Vince Fontaine and Jason Donovan as Teen Angel in selected performances.   After a whirlwind summer romance, leather-clad greaser Danny and girl-next-door Sandy are unexpectedly reunited when she transfers to Rydell High for senior year. But can they survive the trials and tribulations of teenage life and find true love once more?   Bursting with hits including Summer Nights, Greased Lightnin', Hopelessly Devoted to You and You're the One That I Want, this thrilling new production is directed by the Leicester Curve's Artistic Director Nikolai Foster, and choreographed by the legendary Arlene Phillips.   Grease arrives back in the West End for 26 weeks only from 3 May 2022.   It's the one that you want - so don't miss out! 
Jeunes Enfants
Recommended for ages 7+
Prochaines représentations de Grease au Dominion Theatre
aujourd'hui
26 sept. 2022
19:30
mercredi
28 sept. 2022
19:30
vendredi
30 sept. 2022
19:30
Billets réduits pour Grease
Nous avons une grande sélection de billets pas cher pour Grease à Londres. Vous pouvez économiser jusqu'à 70% du prix du billet! Si vous recherchez des billets réduits pour Grease au Dominion Theatre, toutes nos offres sont ci-dessous.
-25%
Normal 99,99€
Réduit 75,49€
SAVE UP TO £40 ON TICKETS Valid Monday - Friday performances 5 September - 20 October 2022. Book by 5PM 10 October 2022.
Critiques de Grease
4,4 sur 5
basé sur

341

avis
Notes globales :
Acteurs
Musique
Costumes
Histoire
Eclairages
Recommandé pour :
Tous (77%)
Familles (84%)
Adolescents (87%)
Couples (85%)
Fans de théâtre (86%)
Derniers avis des spectateurs

Légèreté
Ecrit le 29 août 2022 par Théo, Codognan, France

Très bonne énergie ! Tout était parfait 🤩
Ecrit le 23 août 2022 par Philippe, Clichy, France

Très bon spectacle
Je recommande très dynamique.
Ecrit le 13 août 2022 par Frank, St Sébastien De Morsent, France

Génial
Ecrit le 10 août 2022 par Myosotis, Mesnard-la-barotière, France

Superbe spectacle
Un très bon moment passé en famille avec enfants et adolescents. Ils ne connaissaient pas le film mais ont adoré le spectacle, les chansons, les acteurs, les décors ... A voir absolument.
Ecrit le 23 juillet 2022 par Benoit, Laval, France

Énergie assurée foncez le voir
Ecrit le 14 juillet 2022 par Pascale, Hyeres, France

superbe comédie musicale rock n'roll !
magnifique mise en scène et que de beaux souvenirs moi qui suis fan du film ! 1 conseil pour les francais regardez avant le film (surtout si vous comprenez pas l'anglais ! )
Ecrit le 07 juillet 2022 par Jessica, Pegomas, France

Énergique.
Tout est parfait, acteurs, chansons, costumes, musique....même si l'histoire est un peu décousue
Ecrit le 14 juin 2022 par Audrey, Vence, France

Décousu pas de fil rouge
Si vous n'avez pas vu le film vous n aimerez probablement pas la comédie musicale .
Ecrit le 28 mai 2022 par Didier, Ottignies-louvain-la-neuve, Belgium

inégal et peu fluide dans l histoire
Peut être est ce dû au démarrage du spectacle mais le son n est pas au point . On entend peu Danny. Le personnage est aussi un peu effacé par rapport à l original. Le couple star est peu présent. rôles secondaires plutôt très bons. Sandy chante très bien. Les chorégraphies sont sympas. Mais l ensemble est inégal. Et la liberté prise sur le scénario fait une histoire au final difficile à suivre.
Ecrit le 06 mai 2022 par Marie-helene, Sevres, France

Super moment à passer
Ecrit le 04 mai 2022 par Didier, Toulouse, France