Ce spectacle est maintenant fermé.
Faits rapides
Meilleur choix de places du West End
Disponibilité des places en temps réel
Choisissez vos propres places
Votre réservation est enregistrée instantanément dans le système du théâtre
Ce spectacle est maintenant fermé.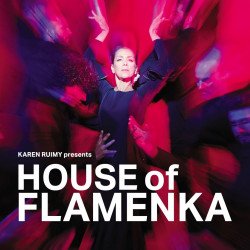 Tenez-moi informé
Dites-moi quand les places pour House of Flamenka sont en vente.
Information
Tarifs Réduits
A propos de House of Flamenka
Horaires
Description de House of Flamenka
House of Flamenka is lavish, extravagant and sexy.
Flamenco, Latin and contemporary dance join forces in a thrilling performance combining the power of group dance with the sultry heat of the Mediterranean.
Flamenco Legend Karen Ruimy leads an exceptional company of male dancers from Madrid and the UK in a passionate fusion of distinctive forms.
As worlds collide, feet stomp and hips twirl, House of Flamenka takes you on an electrifying journey.
Follow the key characters from the House of Flamenka as they move from the spectacle and grandeur of their surroundings to bare stage stripping the dance back to the raw energy and passion of the artform.
House of Flamenka is directed and co-created by Arlene Phillips, co-created and produced by Karen Ruimy with choreography by James Cousins.
Important COVID-19 information
This venue has additional Covid-19 safety measures in place to ensure the health and well-being of the staff, performers, and guests.
For the safety of fellow audience members and our staff, we recommend and encourage you to wear a face covering in our buildings. Members of staff will wear a face covering, unless exempt.
Billets réduits pour House of Flamenka
Nous avons une grande sélection de billets pas cher pour House of Flamenka à Londres. Vous pouvez économiser jusqu'à 70% du prix du billet! Si vous recherchez des billets réduits pour House of Flamenka au Peacock Theatre, toutes nos offres sont ci-dessous.
Il n'y a pas d'offres spéciales disponibles pour le moment, mais nous avons toujours des places pas chères pour House of Flamenka au Peacock Theatre.