St Martin's Lane, London, WC2N 4ES GB
Faits rapides
Meilleur choix de places du West End
Disponibilité des places en temps réel
Choisissez vos propres places
Votre réservation est enregistrée instantanément dans le système du théâtre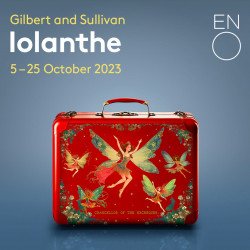 Iolanthe
5/5
-

basé sur

1

avis

sur

1

avis vérifié
Séances à partir de : jeudi 5 octobre 2023
Séances jusqu'à : mercredi 25 octobre 2023
Durée : 2 hours 50 min (incl interval)
Places

à partir de 13,99€
Information
Tarifs Réduits
Avis
A propos de Iolanthe
Description de Iolanthe
It's a topsy-turvy worldview, typical of Gilbert & Sullivan, in which life in the fairy world and Parliament is reversed.
Phyllis and Strephon (half man, half-fairy) wish to marry, but as Phyllis is a ward of court she requires the Lord Chancellor's permission. The Lord Chancellor, however, wants her for himself.
Sullivan's ever-melodious score matches Gilbert's libretto in satirising the vanities and egos of the the peers of the realm. And, just for good measure, Iolanthe targets the celebrity culture of the day. There are thinly disguised portraits of the good and the great of late Victorian society. There are side swipes at Queen Victoria, John Brown (her personal servant and 'close companion'), Lord Randolph Churchill (reformist Tory) and William Gladstone (the serving Liberal PM).
Cal McCrystal returns to direct this successful production. Bringing his characteristic joyfully chaotic physical comedy, irreverence and brilliant wordplay. Outstanding former ENO Harewood Artist Samantha Price leads a cast of ENO favourites, including baritone Marcus Farnsworth as Strephon.
Assisted performance
24th October 19:00 BSL signed performance
Informations
Séances à partir de :


jeudi 5 octobre 2023

Séances jusqu'à :


mercredi 25 octobre 2023

Durée :


2 hours 50 min (incl interval)
Horaires
Prochaines représentations de Iolanthe au London Coliseum
vendredi
13 oct. 2023
19:00
Billets réduits pour Iolanthe
Nous avons une grande sélection de billets pas cher pour Iolanthe à Londres. Vous pouvez économiser jusqu'à 70% du prix du billet! Si vous recherchez des billets réduits pour Iolanthe au London Coliseum, toutes nos offres sont ci-dessous.
Il n'y a pas d'offres spéciales disponibles pour le moment, mais nous avons toujours des places pas chères pour Iolanthe au London Coliseum.
Critiques de Iolanthe
Notes globales :
Acteurs
Musique
Costumes
Histoire
Eclairages
Recommandé pour :

Tous (100%)

Familles (100%)

Adolescents (100%)

Couples (100%)

Fans de théâtre (100%)
Derniers avis des spectateurs
very funny
Ecrit le 09 avril 2018 par Bruno, Lovagny, France