210 Shaftesbury Avenue, London, WC2H 8DP GB
Faits rapides
Meilleur choix de places du West End
Disponibilité des places en temps réel
Choisissez vos propres places
Votre réservation est enregistrée instantanément dans le système du théâtre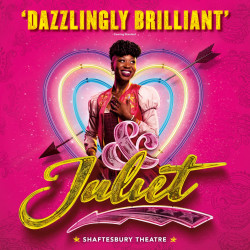 & Juliet
4,8/5
-

basé sur

236

avis
Séances jusqu'à : samedi 25 mars 2023
Durée : 2 hours 30 minutes
Places

à partir de 28,49€
Réserver
Information
Tarifs Réduits
Avis
A propos de & Juliet
Horaires
Séances jusqu'à : samedi 25 mars 2023
Durée : 2 hours 30 minutes
Description de & Juliet
Romeo who?! With her bags packed and ready to escape Verona, Juliet recovers from heartbreak in the best way possible… by dancing the night away with her best friends by her side! But when the sparkle fades, the confetti falls and reality catches up, it's clear that Juliet needs to face her past in order to find her future. Can she reclaim a story that has been written in the stars? Is there really life after Romeo…or could he be worth one more try? Come along for the ride as the original Anne Hathaway takes on her husband William Shakespeare to remix his legendary play. Will Juliet get the ending she truly deserves? And most importantly, can their love survive this battle of wills? Fabulously fresh and riotously funny, & JULIET explodes with dozens of pop anthems you already know and love by legendary songwriter Max Martin, including …Baby One More Time, Since U Been Gone, Roar, It's My Life, I Want It That Way, and Can't Stop the Feeling!; as well as One More Try, a brand-new song written by Max especially for the musical. Winner of six WhatsOnStage Awards and three Olivier Awards, this vibrant, colourful and timely musical is brought to life by an award-winning creative team, with direction by Luke Sheppard (In the Heights), story by David West Read (Schitt's Creek), and electrifying choreography by Jennifer Weber. & JULIET is a joyous blast of fun so book now and join the celebration!
Prochaines représentations de & Juliet au Shaftesbury Theatre
aujourd'hui
26 sept. 2022
19:30
mercredi
28 sept. 2022
19:30
vendredi
30 sept. 2022
14:30
vendredi
30 sept. 2022
19:30
Billets réduits pour & Juliet
Nous avons une grande sélection de billets pas cher pour & Juliet à Londres. Vous pouvez économiser jusqu'à 70% du prix du billet! Si vous recherchez des billets réduits pour & Juliet au Shaftesbury Theatre, toutes nos offres sont ci-dessous.
-23%
Normal 111,49€
Réduit 85,49€
SAVE UP TO £42 ON TICKETS Valid Monday - Friday performances 2 September - 20 October, 31 October - 18 November 2022 and 5th November 2022. Book by 10 October 2022.
Critiques de & Juliet
4,8 sur 5
basé sur

236

avis
Notes globales :
Acteurs
Musique
Costumes
Histoire
Eclairages
Recommandé pour :
Tous (78%)
Familles (86%)
Adolescents (95%)
Couples (89%)
Fans de théâtre (86%)
Derniers avis des spectateurs

Un spectacle très réussi; a recommander
Ecrit le 25 mai 2022 par Marie, Genève, Switzerland

Fabuleux
Fabuleux du début à la fin. Performances vocales incroyables, humour, acteurs & actrices géniaux. A la derniere note on a qu'une envie c'est que cela recommande.
Ecrit le 24 avril 2022 par Stéphanie, Plan D'aups, France

Best musical ever
Best musical ever
Ecrit le 15 février 2020 par Quentin, Herblay, France

Absolument fabuleux du pur bonheur
Spectacle top du début à la fin, humour, émotion et surtout musique. Bravo à toute la troupe qui met du cœur dans ce fabuleux spectacle.
Ecrit le 25 janvier 2020 par Ilan, Nice, France

Spectacle coloré
Beaucoup d'humour ! Les chansons nous rappellent de bon souvenirs d'adolescence des backstreet boys, britney spears, Nsync ect... Les costumes les danseurs tout etait parfait !!! On en prend plein les yeux !
Ecrit le 11 janvier 2020 par Nahila, Neuilly Sur Marne, France

Extraordinaire, magique...
Ecrit le 11 janvier 2020 par Mireille, London, United Kingdom

Excellent, et drôle en plus
Ecrit le 04 janvier 2020 par Irène, Hericy, France

A ne pas manquer !
Un super spectacle rythmé et aux chansons entraînantes...
Ecrit le 28 décembre 2019 par François, Suresnes, France

Fantastic
Nous avons tout aimé, spectacle super entraînant, dynamique et drôle. Acteurs au top :-). GENIAL. MERCI
Ecrit le 28 décembre 2019 par Elisabeth, Morges, Switzerland