Ce spectacle est maintenant fermé.
Faits rapides
Meilleur choix de places du West End
Disponibilité des places en temps réel
Choisissez vos propres places
Votre réservation est enregistrée instantanément dans le système du théâtre
Ce spectacle est maintenant fermé.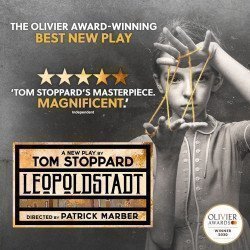 Leopoldstadt
4,5/5
-

basé sur

15

avis
Information
Tarifs Réduits
Avis
A propos de Leopoldstadt
Horaires
Description de Leopoldstadt
Tom Stoppard's Olivier Award-winning BEST NEW PLAY returns to the Wyndham's Theatre for 12 weeks only.
LEOPOLDSTADT – the Olivier Award-winning new 'masterwork' (Evening Standard) by Tom Stoppard opened to overwhelming critical acclaim in early 2020, playing seven weeks of sold-out performances, before being temporarily shut down. Since then, the grand Viennese apartment on Wyndham's stage has waited for a great reawakening, as audiences eagerly anticipate the return of LEOPOLDSTADT. Now, Stoppard's 'unforgettable play from the heart' (The Telegraph) re-opens in the West End, June 2021.
At the beginning of the 20th Century, Leopoldstadt was the old, crowded Jewish quarter of Vienna. But Hermann Merz, a manufacturer and baptised Jew married to Catholic Gretl, has moved up in the world. Gathered in the Merz apartment in a fashionable part of the city, Hermann's extended family are at the heart of Tom Stoppard's epic yet intimate drama. By the time we have taken leave of them, Austria has passed through the convulsions of war, revolution, impoverishment, annexation by Nazi Germany and – for Austrian Jews – the Holocaust in which 65,000 of them were murdered. It is for the survivors to pass on a story which hasn't ended yet.
A 'masterpiece' (Independent) directed by Patrick Marber, LEOPOLDSTADT is Tom Stoppard's most humane and heart-breaking play. Don't miss it.
PULL QUOTES:
'Tom Stoppard's Leopoldstadt is a masterpiece. Magnificent.' Independent
'A momentous new play. Deeply moving piece about memory, loss and recovery.' Financial Times
'An unforgettable play from the heart.' The Telegraph
'Breathtaking. The work of a master.' Time Out
'A glittering triumph!' Daily Mail
'History will record Leopoldstadt as Stoppard's Schindler's List. His brilliant tragic-comedy play.' The Spectator
'Play of the year. A masterwork.' Evening Standards
Important COVID Entry Requirements
Mask
You are required to wear a mask at all times while inside this venue.
Proof of vaccine and/or test
You are required to show proof of a negative Covid-19 test or proof of vaccination in order to attend this performance.
Health check
When you arrive at this venue, you may be asked to fill out a health questionnaire or have your temperature taken.
Covid safety
This venue has additional Covid-19 safety measures in place to ensure the health and well-being of the staff, performers, and guests.
This venue is complying with the latest industry 'See It Safely' guidelines.
Billets réduits pour Leopoldstadt
Nous avons une grande sélection de billets pas cher pour Leopoldstadt à Londres. Vous pouvez économiser jusqu'à 70% du prix du billet! Si vous recherchez des billets réduits pour Leopoldstadt au Wyndham's Theatre, toutes nos offres sont ci-dessous.
Il n'y a pas d'offres spéciales disponibles pour le moment, mais nous avons toujours des places pas chères pour Leopoldstadt au Wyndham's Theatre.