51 Shaftesbury Avenue, London, W1D 6BA GB
Faits rapides
Meilleur choix de places du West End
Disponibilité des places en temps réel
Choisissez vos propres places
Votre réservation est enregistrée instantanément dans le système du théâtre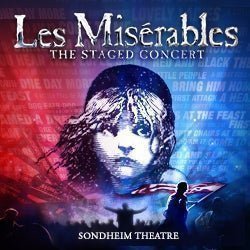 Les Misérables: The All-Star Staged Concert
5/5
-

basé sur

42

avis
Séances à partir de : jeudi 20 mai 2021
Séances jusqu'à : lundi 6 septembre 2021
Places

à partir de 51,99€
Réserver
A propos de Les Misérables: The All-Star Staged Concert
Jeunes Enfants
Please note: As an advisory to adults who might bring young people. All persons under the age of 16 must be accompanied by and sat next to the accompanying adult. They may not sit on their own within the auditorium. If children do have separate seats you could be refused entry. All persons entering the theatre, regardless of age, must have a ticket.
Informations Importantes
Cast Performance Schedules:
Alfie Boe will NOT be performing on Monday evenings, Wednesday matinees or Thursday evenings.
Michael Ball will NOT perform on 13 & 14 September 2019
Alfie Boe will NOT perform on 14, 15 & 16 October, 1 & 2 November 2019.
Performance schedule for the role of Jean Valjean:
John Owen-Jones: Mondays, Wednesday matinees and Thursdays
Alfie Boe: Tuesdays, Wednesday evenings, Fridays, Saturday matinees & evenings
Please also note adjusted cast performance schedule for w/c 28th October 2019:
Monday 28th October - Alfie Boe
Tuesday 29th October - Alfie Boe
Wednesday 30th October (matinee and evening) - Alfie Boe
Thursday 31st October - Alfie Boe
Friday 1st November - John Owen-Jones
Saturday 2nd November (matinee and evening) - John Owen-Jones
Horaires
Séances à partir de : jeudi 20 mai 2021
Séances jusqu'à : lundi 6 septembre 2021
Description de Les Misérables: The All-Star Staged Concert
Les Misérables – The Staged Concert opened to critical acclaim at the Sondheim Theatre in December 2020 and was extended twice by phenomenal public demand. 'Vive Le West End!' proclaimed The Telegraph, 'Theatregoers are back. This is humanity singing its lungs and heart out, and safely too'.
Now, performances are set to return from 20 May until 5 September 2021 only.
Cameron Mackintosh said: "As the West End marks the first anniversary of the enforced closure of British Theatre due to the pandemic, I am delighted to announce that the acclaimed spectacular staged concert of Les Misérables, which previously sold out all performances on Shaftesbury Avenue, will return to the Sondheim Theatre on 20 May 2021 with a reduced capacity and necessary social distancing requirements. The cast drawn from the West End and National Tour Companies will be headed by Jon Robyns as Jean Valjean, Bradley Jaden as Javert, Lucie Jones as Fantine, Shan Ako as Eponine and Harry Apps as Marius. Gerard Carey and Josefina Gabrielle will play the Thénardiers. During the run other celebrated Jean Valjeans will be playing guest performances alongside Jon Robyns."
'A dream come true! Les Mis The world's favourite musical returns in triumph' - Daily Mail
Critiques de Les Misérables: The All-Star Staged Concert
Notes globales :
Acteurs
Musique
Costumes
Histoire
Eclairages
Recommandé pour :
Tous (76%)
Familles (83%)
Adolescents (81%)
Couples (90%)
Fans de théâtre (98%)
Derniers avis des spectateurs

Merci à la qualité des acteurs-chanteurs ...
Spectacle vu à Londres et nous ne sommes pas anglophones. Loin de là! Du coup il nous a manqué une grosse partie de compréhension des chansons et un peu du fil de l'histoire. Mais ce qui est fort c'est l'émotion transmise par les interprètes (chanteurs) et au final nous avons apprécié et pleuré comme tout le monde à la fin ! Et ça c'est fort !
Ecrit le 24 octobre 2019 par Pascal, Orry La Ville, France