31 Shaftesbury Avenue, London, W1D 7ES GB
Faits rapides
Meilleur choix de places du West End
Disponibilité des places en temps réel
Choisissez vos propres places
Votre réservation est enregistrée instantanément dans le système du théâtre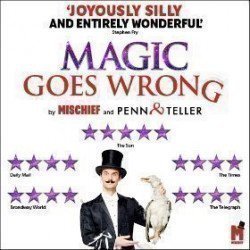 Magic Goes Wrong
4,5/5
-

basé sur

26

avis
Séances à partir de : jeudi 21 octobre 2021
Séances jusqu'à : dimanche 27 février 2022
Durée : 2 hours 10 minutes
Places

à partir de 34,99€
Réserver
Théâtre COVID Secure
Ce théâtre met en œuvre des mesures sanitaires afin de rendre votre visite sûre et agréable.
Achetez en confiance
Achetez vos places dès aujourd'hui, avec l'assurance que votre réservation pourra être échangée en cas d'annulation.
A propos de Magic Goes Wrong
Informations Importantes
Online Venue check-in
: Please note you will be contacted by the venue 48 hours before the performance with instructions on how to check-in and retrieve your e-ticket.
12+
Horaires
Séances à partir de : jeudi 21 octobre 2021
Séances jusqu'à : dimanche 27 février 2022
Durée : 2 hours 10 minutes
Description de Magic Goes Wrong
Created with Magic legends Penn & Teller, Mischief Theatre conjure up an evening of grand illusion.
In the next 'Goes Wrong' comedy to hit the West End, the original Mischief company play a hapless gang of magicians presenting a charity event.
As the accidents spiral out of control, so does their fundraising target!
*Penn & Teller are co-creators of the show and won't be appearing on stage. 
Prochaines représentations de Magic Goes Wrong au Apollo Theatre
vendredi
22 oct. 2021
19:30
dimanche
24 oct. 2021
14:00
dimanche
24 oct. 2021
19:00