London Coliseum
St Martin's Lane, London, WC2N 4ES GB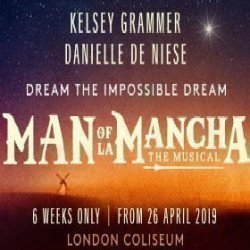 Man of La Mancha
London Coliseum
Acteurs: Danielle De Niese, Kelsey Grammer
Séances à partir de: vendredi, 26 avril 2019
Séances jusqu'à: samedi, 8 juin 2019
Places
à partir de 17,49€
Réserver
Horaires
Mon
Tue
Wed
Thu
Fri
Sat
Sun
14:30
14:30
19:30
19:30
19:30
19:30
19:30
19:30
Informations Importantes
Danielle de Niese will perform on the following dates: 26 Apr 7.30, 27 Apr 2.30 & 7.30, 29 Apr 7.30, 30 Apr 7.30, 1 May 7.30, 2 May 7.30, 3 May 7.30, 4 May 2.30 & 7.30, 6 May 7.30, 7 May 7.30, 8 May 7.30, 9 May 7.30, 10 May 7.30, 11 May 2.30 & 7.30, 13 May 7.30, 14 May 7.30, 15 May 7.30, 16 May 7.30, 17 May 7.30, 18 May 7.30, 20 May 7.30, 22 May 7.30, 23 May 7.30, 25 May 7.30, 29 May 7.30, 30 May 7.30, 1 Jun 7.30, 4 Jun 7.30, 6 Jun 7.30
Cassidy Janson will perform on the following dates: 1 May 2.30, 8 May 2.30, 15 May 2.30, 21 May 7.30, 22 May 2.30, 24 May 7.30, 25 May 2.30, 28 May 7.30, 29 May 2.30, 31 May 7.30, 1 Jun 2.30, 3 Jun 7.30, 5 Jun 2.30 & 7.30, 7 Jun 7.30, 8 Jun 2.30 & 7.30
Séances à partir de:
vendredi, 26 avril 2019
Séances jusqu'à:
samedi, 8 juin 2019
The producers who brought you the smash hit productions of Sweeney Todd, Sunset Boulevard, Carousel and Chess present the Tony-award winning musical Man of La Mancha, at the London Coliseum this spring.
Featuring the legendary song, The Impossible Dream (The Quest), Man of La Mancha is inspired by Miguel de Cervantes's masterpiece novel Don Quixote. This uplifting, timeless tale stars Kelsey Grammer, Danielle de Niese, Peter Polycarpou, Nicholas Lyndhurst and Cassidy Janson, from 26th April for a limited 6 week season.
Described by esteemed American critic Edward P. Morgan as 'One of the most magnificently moving pieces I have ever seen on any stage', and celebrated throughout the world, Man of La Mancha at last returns to the West End in a new production for the first time in 50 years. Performed on the magnificent stage at the London Coliseum with the ENO's 35-piece orchestra, it is set to be the theatrical event of the year. 
Join Don Quixote as he chases his impossible dream, to pursue the beautiful princess Dulcinea – and a few windmills. Determined to uphold all that is good and right at a time when the odds are stacked against him, Quixote's courage is abounding, and we are all compelled to follow his unreachable star.
Nous avons une grande sélection de billets pas cher pour Man of La Mancha à Londres. Vous pouvez économiser jusqu'à 70% du prix du billet! Si vous recherchez des billets réduits pour Man of La Mancha au London Coliseum, toutes nos offres sont ci-dessous.
1
Normal 40,99€
Réduit 23,49€

-43%

Valid Mon-Fri from 26 Apr - 15 May 2019. Book by 25 Apr.. .
2

pas de frais de réservation

Places

à partir de 28,99€
Valid on all performances from 26 Apr - 15 May 2019. Book by 25 Apr.. .
3
Normal 57,99€
Réduit 40,99€

-30%

Valid Mon-Fri from 26 Apr - 15 May 2019. Book by 25 Apr.. .
Veuillez utiliser la boîte de recherche en haut à gauche de cette page pour rechercher des billets pour Man of La Mancha.
Notre
Promesse
Choisissez vos places au moment de la réservation.
Réservation en ligne sécurisée
Service e-Billet
Pas de coûts cachés.

Adresse du théâtre
London Coliseum
St Martin's Lane, London, WC2N 4ES GB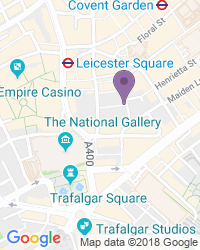 Equipements
Climatisé
Bar
Ecouteurs infrarouge
Toilettes
Accessible en fauteuil roulant
Info Theatre
Capacité: 2358
Année de construction: 1904
Prochaines représentations