Ce spectacle est maintenant fermé.
Faits rapides
Meilleur choix de places du West End
Disponibilité des places en temps réel
Choisissez vos propres places
Votre réservation est enregistrée instantanément dans le système du théâtre
Ce spectacle est maintenant fermé.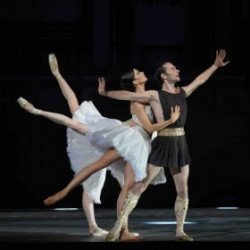 Modanse
5/5
-

basé sur

4

avis
Information
Tarifs Réduits
Avis
A propos de Modanse
Horaires
Description de Modanse
Internationally acclaimed ballerina Svetlana Zakharova – the Bolshoi's prima – is famous for thrilling audiences and critics all over the world with her formidable technique and her sparkling dramatic interpretation of classical and contemporary roles.
Following Amore, her sell-out 2017 programme, Zakharova returns to the London Coliseum in December with Modanse – a brand-new double bill produced by MuzArts.
Zakharova will be joined on stage by a star-studded cast of dancers from the Bolshoi Ballet, including Mikhail Lobukhin, Vaycheslav Lopatin, Denis Savin, Jacopo Tissi and Ana Turazashvili.
Like a Breath
The Baroque style of Händel's music in this ballet beautifully complements Mauro Bigonzetti's choreography which is, in turn, matched with elegant yet daring costumes emphasizing the sexuality of dancers and their movements.
Gabrielle Chanel
This gorgeous new ballet – a tribute to the legendary Coco Chanel – is a collaboration between choreographer Yuri Possokhov and composer Ilya Demutsky.
Zakharova performs the title role in a story that explores Chanel's connections to the world of dance through Sergei Diaghilev and his ballets 'Le Train Bleu' (1924) and 'Apollon Musagète' (1929).
More than eighty costumes have been designed exclusively for the ballet by CHANEL Creative Studio headed by Virginie Viard, creative director of CHANEL Fashion House.
Billets réduits pour Modanse
Nous avons une grande sélection de billets pas cher pour Modanse à Londres. Vous pouvez économiser jusqu'à 70% du prix du billet! Si vous recherchez des billets réduits pour Modanse au London Coliseum, toutes nos offres sont ci-dessous.
-50%
Normal 27,99€
Réduit 13,99€
Valid Tue-Thu 3-5 Dec 2019.
-50%
Normal 66,99€
Réduit 33,49€
Valid Tue-Thu 3-5 Dec 2019.
-50%
Normal 109,99€
Réduit 54,99€
Valid Tue-Thu 3-5 Dec 2019.
Critiques de Modanse
Notes globales :
Acteurs
Musique
Costumes
Histoire
Eclairages
Recommandé pour :
Tous (100%)
Familles (100%)
Adolescents (100%)
Couples (100%)
Fans de théâtre (100%)