Faits rapides
Meilleur choix de places du West End
Disponibilité des places en temps réel
Choisissez vos propres places
Votre réservation est enregistrée instantanément dans le système du théâtre
Ce spectacle est maintenant fermé.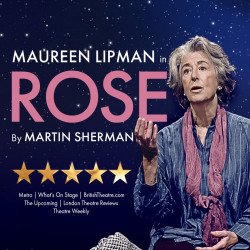 Rose
5/5
-

basé sur

1

avis

sur

1

avis vérifié
Ce spectacle est maintenant fermé.
Tenez-moi informé
Dites-moi quand les places pour Rose sont en vente.
Information
Tarifs Réduits
Avis
A propos de Rose
Acteurs:
Maureen Lipman
Description de Rose
The award-winning, critically acclaimed production of Martin Sherman's Rose transfers to the Ambassador's Theatre for 28 performances, from Tuesday 23rd of May after sell-out runs at Hope Mill Theatre, Manchester, and The Park Theatre, London once again starring Maureen Lipman.
"A performance of unassailable greatness"
What's on Stage
Olivier Award winning, Maureen Lipman has performed with The National Theatre and the Royal Shakespeare Company, and has starred in innumerable West End productions including, Messiah, Wonderful Town, ReJoice, Glorious, Oklahoma and Daytona. For the last five years she has been delighting television audiences as Evelyn Plummer on Coronation Street.
Written by award-winning Martin Sherman whose other plays include Bent, Messiah, A MadHouse in Goa as well as When She Danced, the films Alive and Kicking and Mrs Henderson Presents as well as the Broadway Musical The Boy From Oz.
"A masterpiece"
The Spectator
Rose, a woman whose tumultuous journey through anarchic times takes her from the devastation of Nazi- occupied Europe to the allure of the American dream. Through the life of one woman Rose tells the story of a century where everything changed except the violence of the strong against the weak.
"Funny, moving and wise"
Daily Mail
The original production of Rose was produced at the National Theatre and on Broadway in 1999. It is perhaps even more relevant today, with the plight of refugees and allegations of antisemitism continuing to dominate the news. This powerful production is a moving reminder of the harrowing events that shaped the last century.
FIVE STARS
Metro/What's on Stage/BritishTheatre.com/The Upcoming/London Theatre Reviews/Theatre Weekly 
Billets réduits pour Rose
Nous avons une grande sélection de billets pas cher pour Rose à Londres. Vous pouvez économiser jusqu'à 70% du prix du billet! Si vous recherchez des billets réduits pour Rose au Ambassadors Theatre, toutes nos offres sont ci-dessous.
Il n'y a pas d'offres spéciales disponibles pour le moment, mais nous avons toujours des places pas chères pour Rose au Ambassadors Theatre.
Critiques de Rose
Notes globales :
Acteurs
Musique
Costumes
Histoire
Eclairages
Recommandé pour :

Fans de théâtre (100%)