2 Queen Caroline Street, London, W6 9QH GB
Faits rapides
Meilleur choix de places du West End
Disponibilité des places en temps réel
Choisissez vos propres places
Votre réservation est enregistrée instantanément dans le système du théâtre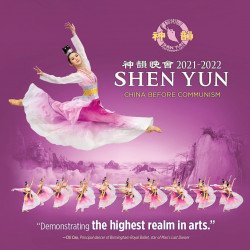 Shen Yun
3,5/5
-

basé sur

33

avis
Séances jusqu'à : mardi 31 mai 2022
Places

à partir de 105,49€
Réserver
Information
Tarifs Réduits
Avis
A propos de Shen Yun
Horaires
Séances jusqu'à : mardi 31 mai 2022
Description de Shen Yun
Experience The Beauty of Ancient China Before Communism
Shen Yun takes you on an extraordinary journey through China's 5,000 years of divinely inspired culture. 
Exquisite beauty from the heavens, profound wisdom from dynasties past, timeless legends and ethnic traditions all spring to life through classical Chinese dance, enchanting live orchestral music, authentic costumes, and patented interactive backdrops. Revisit a time when scholars and artists sought harmony with the Tao, or the "Way" of the universe, and when divine beings walked upon the earth to inspire humanity.
Join us for a night filled with courage and wisdom, light and hope... Experience Shen Yun! 
Billets réduits pour Shen Yun
Nous avons une grande sélection de billets pas cher pour Shen Yun à Londres. Vous pouvez économiser jusqu'à 70% du prix du billet! Si vous recherchez des billets réduits pour Shen Yun au Hammersmith Apollo (Eventim), toutes nos offres sont ci-dessous.
Il n'y a pas d'offres spéciales disponibles pour le moment, mais nous avons toujours des places pas chères pour Shen Yun au Hammersmith Apollo (Eventim).