6 Panton Street, London, SW1Y 4DN GB
Faits rapides
Meilleur choix de places du West End
Disponibilité des places en temps réel
Choisissez vos propres places
Votre réservation est enregistrée instantanément dans le système du théâtre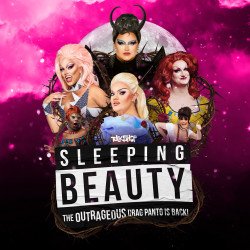 Sleeping Beauty
Séances à partir de : Wednesday 27 December 2023
Séances jusqu'à : Sunday 31 December 2023
Places

à partir de 34.99€
Information
Tarifs Réduits
A propos de Sleeping Beauty
Description de Sleeping Beauty
TuckShop are BACK for their THIRD West End season of their hilarious all-drag panto!
Far far away, Princess Aurora is under a cruel spell to sleep for 100 years…or is she just hungover and lazy… you decide. Will the evil Carabosse win the day, or will the dashing, suave, and ever so horny Prince Charming save the day, slay the competition, and save our Princess?!
Written by Soho and West End drag legend Miss Moppe, this ridiculous retelling of the sleepiest princess in all the land will have you laughing out loud, singing along, and wondering just WHO is behind you.
Join a spectacular line up of the best Drag as they whisk you to a magical land to re-tell the classic Sleeping Beauty in their own, mischievous, OUTRAGEOUS way
Informations
Séances à partir de :


Wednesday 27 December 2023

Séances jusqu'à :


Sunday 31 December 2023

Jeunes Enfants

Prochaines représentations de Sleeping Beauty au Harold Pinter Theatre
Wednesday
27 Dec 2023
20:00
Billets réduits pour Sleeping Beauty
Nous avons une grande sélection de billets pas cher pour Sleeping Beauty à Londres. Vous pouvez économiser jusqu'à 70% du prix du billet! Si vous recherchez des billets réduits pour Sleeping Beauty au Harold Pinter Theatre, toutes nos offres sont ci-dessous.
-23%
Normal 75.49€
Réduit 57.99€
SAVE ON TICKET PRICES Valid all performances 27-31 December 2023. Book by 5 December 2023.