3 Potters Fields Park, London, SE1 2SG GB
Faits rapides
Meilleur choix de places du West End
Disponibilité des places en temps réel
Choisissez vos propres places
Votre réservation est enregistrée instantanément dans le système du théâtre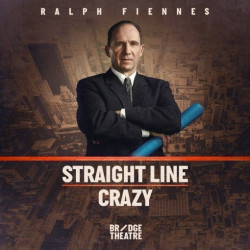 Straight Line Crazy
4,7/5
-

basé sur

3

avis
Séances jusqu'à : samedi 18 juin 2022
Acteurs: Ralph Fiennes
Places

à partir de 21,49€
Réserver
Information
Tarifs Réduits
Avis
A propos de Straight Line Crazy
Horaires
Séances jusqu'à : samedi 18 juin 2022
Acteurs:
Ralph Fiennes
Description de Straight Line Crazy
Ralph Fiennes stars in David Hare's blazing account of the life of a man whose iron will exposed the weakness of democracy in the face of charismatic conviction. For forty uninterrupted years, Robert Moses was the most powerful man in New York. Though never elected to office, he manipulated those who were through a mix of guile, charm and intimidation. Motivated at first by a determination to improve the lives of New York City's workers, he created new parks, new bridges and 627 miles of expressway to connect the people to the great outdoors. But in the 1950s, groups of citizens at grass roots began to organize against his schemes and against the motor car, campaigning for a very different idea of what a city was and for what it should be.
Billets réduits pour Straight Line Crazy
Nous avons une grande sélection de billets pas cher pour Straight Line Crazy à Londres. Vous pouvez économiser jusqu'à 70% du prix du billet! Si vous recherchez des billets réduits pour Straight Line Crazy au The Bridge Theatre, toutes nos offres sont ci-dessous.
Il n'y a pas d'offres spéciales disponibles pour le moment, mais nous avons toujours des places pas chères pour Straight Line Crazy au The Bridge Theatre.