Ce spectacle est maintenant fermé.
Faits rapides
Meilleur choix de places du West End
Disponibilité des places en temps réel
Choisissez vos propres places
Votre réservation est enregistrée instantanément dans le système du théâtre
Ce spectacle est maintenant fermé.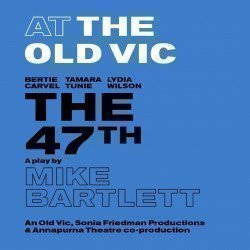 The 47th
3,8/5
-

basé sur

5

avis
Tenez-moi informé
Dites-moi quand les places pour The 47th sont en vente.
Information
Tarifs Réduits
Avis
A propos de The 47th
Horaires
Description de The 47th
'It's not a game for gentlemen we're playing, Political and civilized. This is Historic' 
It is 2024 and as America goes to the polls, democracy itself is on the brink. Who takes the White House – and at what cost? 
The team behind the multi award-winning King Charles III reunite as Rupert Goold directs the world premiere of Mike Bartlett's viciously funny The 47th, a chaotic glimpse into the underbelly of the greatest political show on earth – the next presidential race. With Bertie Carvel as Donald Trump, Tamara Tunie as Kamala Harris and Lydia Wilson as Ivanka Trump.
Billets réduits pour The 47th
Nous avons une grande sélection de billets pas cher pour The 47th à Londres. Vous pouvez économiser jusqu'à 70% du prix du billet! Si vous recherchez des billets réduits pour The 47th au Old Vic Theatre, toutes nos offres sont ci-dessous.
Il n'y a pas d'offres spéciales disponibles pour le moment, mais nous avons toujours des places pas chères pour The 47th au Old Vic Theatre.
Critiques de The 47th
3,8 sur 5
basé sur

5

avis
Notes globales :
Acteurs
Musique
Costumes
Histoire
Eclairages
Recommandé pour :
Tous (20%)
Familles (20%)
Adolescents (40%)
Couples (40%)
Fans de théâtre (80%)