Ce spectacle est maintenant fermé.
Faits rapides
Meilleur choix de places du West End
Disponibilité des places en temps réel
Choisissez vos propres places
Votre réservation est enregistrée instantanément dans le système du théâtre
Ce spectacle est maintenant fermé.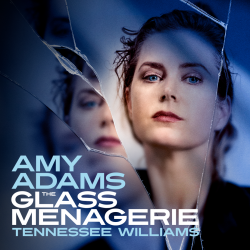 The Glass Menagerie
4,3/5
-

basé sur

34

avis
Tenez-moi informé
Dites-moi quand les places pour The Glass Menagerie sont en vente.
Information
Tarifs Réduits
Avis
A propos de The Glass Menagerie
Horaires
Acteurs:
Amy Adams
Description de The Glass Menagerie
'Memory is seated predominantly in the heart' – Tennessee Williams.
Six time Academy Award nominated actress Amy Adams makes her West End debut in a new production of Tennessee Williams's celebrated memory play, The Glass Menagerie directed by Jeremy Herrin (Wolf Hall Trilogy, People Places and Things, This House). Paul Hilton (The Inheritance, Lady Macbeth, A Very British Scandal), Tom Glynn-Carney (The Ferryman, Dunkirk), Lizzie Annis and Victor Alli complete the stellar cast.
Shattered by her husband's abandonment, Amanda Wingfield's steely focus remains locked on her future security and that of her children, Tom and Laura.  Her determination collides with her children's dreams and ambitions. While Tom feels trapped by his life in St Louis, the pressure Amanda forces upon her daughter to secure her future is crushing both their relationship and Laura's fragile self-esteem.  As attentions quickly turn to securing a suitor for Laura, the fine thread that connects dignity to desperation is pulled taut.
Important COVID-19 information
We recommend that you wear a mask while inside this venue.
Billets réduits pour The Glass Menagerie
Nous avons une grande sélection de billets pas cher pour The Glass Menagerie à Londres. Vous pouvez économiser jusqu'à 70% du prix du billet! Si vous recherchez des billets réduits pour The Glass Menagerie au Duke of York's Theatre, toutes nos offres sont ci-dessous.
Il n'y a pas d'offres spéciales disponibles pour le moment, mais nous avons toujours des places pas chères pour The Glass Menagerie au Duke of York's Theatre.
Critiques de The Glass Menagerie
4,3 sur 5
basé sur

34

avis
Notes globales :
Acteurs
Musique
Costumes
Histoire
Eclairages
Recommandé pour :
Tous (32%)
Familles (35%)
Adolescents (44%)
Couples (68%)
Fans de théâtre (91%)