Faits rapides
Meilleur choix de places du West End
Disponibilité des places en temps réel
Choisissez vos propres places
Votre réservation est enregistrée instantanément dans le système du théâtre
Ce spectacle est maintenant fermé.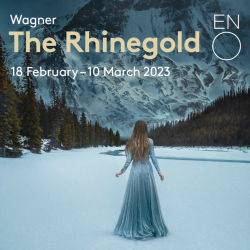 The Rhinegold
3/5
-

basé sur

2

avis

sur

2

avis vérifiés
Ce spectacle est maintenant fermé.
Tenez-moi informé
Dites-moi quand les places pour The Rhinegold sont en vente.
Information
Tarifs Réduits
Avis
A propos de The Rhinegold
Description de The Rhinegold
When the forging of a prophesied ring of the Rhine proves more problematic than you'd possibly think, the realms of gods and men prove all the more chaotic for it. Giants, dwarfs, nymphs and deities quarrel and clash, with the fate of the nine worlds in the balance.
Olivier Award-winning director Richard Jones returns from 2021's 'powerful' (Evening Standard) production of The Valkyrie in ENO's ongoing Ring Cycle, performing all four epics as part of a five-year collaboration bringing Wagner's magnum opus to the London Coliseum.
ENO Music Director Martyn Brabbins channels Wagner's tempestuous score in conducting the ENO Orchestra. Wotan, played by John Relyea, is accompanied by Frederick Ballentine (Loge), former Harewood Artist Madeleine Shaw (Fricka), Christine Rice (Erda), Leigh Melrose (Alberich) and James Cresswell (Fafner), amongst others.
 
Important Covid information
Wearing a face covering is now a personal choice, we encourage all customers to be mindful and respect others.
Please do not attend if you are displaying symptoms
Billets réduits pour The Rhinegold
Nous avons une grande sélection de billets pas cher pour The Rhinegold à Londres. Vous pouvez économiser jusqu'à 70% du prix du billet! Si vous recherchez des billets réduits pour The Rhinegold au London Coliseum, toutes nos offres sont ci-dessous.
Il n'y a pas d'offres spéciales disponibles pour le moment, mais nous avons toujours des places pas chères pour The Rhinegold au London Coliseum.
Critiques de The Rhinegold
Notes globales :
Acteurs
Musique
Costumes
Histoire
Eclairages