35-37 Shaftesbury Avenue, London, W1D 6AR GB
Faits rapides
Meilleur choix de places du West End
Disponibilité des places en temps réel
Choisissez vos propres places
Votre réservation est enregistrée instantanément dans le système du théâtre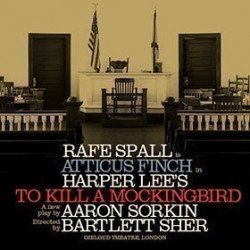 To Kill A Mockingbird
Séances à partir de : jeudi 10 mars 2022
Séances jusqu'à : samedi 13 août 2022
Durée : 2 hours 35 minutes (One interval)
Places

à partir de 28,99€
Réserver
A propos de To Kill A Mockingbird
Horaires
Séances à partir de : jeudi 10 mars 2022
Séances jusqu'à : samedi 13 août 2022
Durée : 2 hours 35 minutes (One interval)
Description de To Kill A Mockingbird
Best availability from May 2022
★★★★★
"All rise for the miracle that is 'Mockingbird'. Unmissable and unforgettable. An American classic" - Rolling Stone, Peter Travers
Rafe Spall will play Atticus Finch in TO KILL A MOCKINGBIRD, Aaron Sorkin's new play based on Harper Lee's Pulitzer Prize-winning novel, directed by Bartlett Sher, which opens at the Gielgud Theatre in March 2022.
Harper Lee's enduring story of racial injustice and childhood innocence has sold 45 million copies worldwide. On Broadway the production has not played to an empty seat and has become the most successful American play in Broadway history.
"It will change how you see the world. This is what great theater is for. Aaron Sorkin's 'Mockingbird' is filled with deep compassion and overwhelming humanity. Do not miss it." - NY Post
"A 'Mockingbird' for our moment. Beautiful, elegiac, satisfying, even exhilarating" - New York Times
Important COVID Entry Requirements
Mask
You are required to wear a mask at all times while inside this venue.
Proof of vaccine and/or test
You are required to show proof of a negative Covid-19 test or proof of vaccination in order to attend this performance.
Health check
When you arrive at this venue, you may be asked to fill out a health questionnaire or have your temperature taken.
Covid safety
This venue has additional Covid-19 safety measures in place to ensure the health and well-being of the staff, performers, and guests.
This venue is complying with the latest industry 'See It Safely' guidelines.
Informations Importantes
PLEASE NOTE: Rhys Ifans will perform in the role of Atticus Finch until Saturday 10 October. Additionally he will not perform between 7-12 September inclusive.
Prochaines représentations de To Kill A Mockingbird au Gielgud Theatre
vendredi
11 mars 2022
19:30