Strand, London, WC2R 0ET GB
Faits rapides
Meilleur choix de places du West End
Disponibilité des places en temps réel
Choisissez vos propres places
Votre réservation est enregistrée instantanément dans le système du théâtre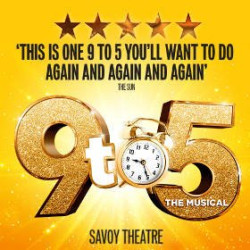 9 to 5 the Musical
4,7/5
-

basé sur

384

avis
Séances jusqu'à : samedi 23 mai 2020
Durée : 2 hours 30 minutes
Acteurs: Brian Conley, Bonnie Langford, Caroline Sheen, Chelsea Halfpenny, David Hasselhoff
Places

à partir de 28,49€
Réserver
A propos de 9 to 5 the Musical
Jeunes Enfants
Age Recommendation: 12+  Please note: This production contains comic sexual references, light drug use and the occasional curse word.
Informations Importantes
Please do note that while 9 to 5 is suitable for a wide audience; you should make teachers aware that for younger audience members; the show does contain comic sexual references; light drug use and the occasional swear word. Dolly Parton will not be appearing in this production.
Horaires
Séances jusqu'à : samedi 23 mai 2020
Durée : 2 hours 30 minutes
Acteurs:
Brian Conley, Bonnie Langford, Caroline Sheen, Chelsea Halfpenny, David Hasselhoff
Description de 9 to 5 the Musical
9 TO 5 THE MUSICAL is getting down to business at the West End's Savoy Theatre for even longer – now booking until May 2020 with 300,000 new tickets released!
Currently starring Caroline Sheen, Chelsea Halfpenny, Natalie McQueen, Bonnie Langford and David Hasselhoff, the five star smash-hit musical features a book by the iconic movie's original screenwriter Patricia Resnick and an Oscar, Grammy and Tony award-nominated score by the Queen of Country herself, Dolly Parton.
David Hasselhoff will join the cast as Franklin Hart Jr. until 8 February 2020.
9 TO 5 THE MUSICAL tells the story of Doralee, Violet and Judy - three workmates pushed to boiling point by their sexist and egotistical boss. Concocting a plan to kidnap and turn the tables on their despicable supervisor, will the ladies manage to reform their office - or will events unravel when the CEO pays an unexpected visit?
Inspired by the hit film and brought to you by Dolly herself, this hilarious new West End production is about teaming up, standing up and taking care of business!
Prochaines représentations de 9 to 5 the Musical au Savoy Theatre
aujourd'hui
24 janv. 2020
19:30
mercredi
29 janv. 2020
14:30
Critiques de 9 to 5 the Musical
4,7 sur 5
basé sur

384

avis
Notes globales :
Acteurs
Musique
Costumes
Histoire
Eclairages
Recommandé pour :
Tous (61%)
Familles (63%)
Adolescents (72%)
Couples (90%)
Fans de théâtre (90%)
Derniers avis des spectateurs

Tout était parfait
un superbe spectacle d'un niveau très professionnel : très bons comédiens (en particulier les 3 principales comédiennes) ET chanteurs, superbes chorégraphies. L'histoire, pourtant écrite en 1980, colle bien à l'actualité. Les interventions filmées de Dolly Parton sont bien trouvées. David Hasselfhoff irrésistible en patron misogyne et pervers.
Ecrit le 15 janvier 2020 par Vincent, Fonsorbes, France

Très drole!
Ecrit le 13 janvier 2020 par Margot, Besancon, France

Nous nous sommes ennuyé. C'est un peu beauf et vraiment cher pour ce que c'est.
Ecrit le 08 janvier 2020 par Emmanuel, Paris, France

Comédie musicale à recommander !!!
Très belle prestation, chansons, chorégraphies, humour tout y est ! J'y suis allée par hasard mais vraiment je ne regrette pas.
Ecrit le 03 janvier 2020 par Flora, Lyon, France

Cool
Ecrit le 01 novembre 2019 par Nestor, Lyon, France

J'ai passé un bon moment, beaucoup d'humour pour un sujet qui est toujours d'actualité.
Ecrit le 10 octobre 2019 par Monique, Le Lignon, Switzerland

Un régal!
La superbe comédie musicale de Dolly Patron!
Ecrit le 02 août 2019 par Anaïs, Talence, France

divertissent
Ecrit le 26 mars 2019 par Yves, Paris, France